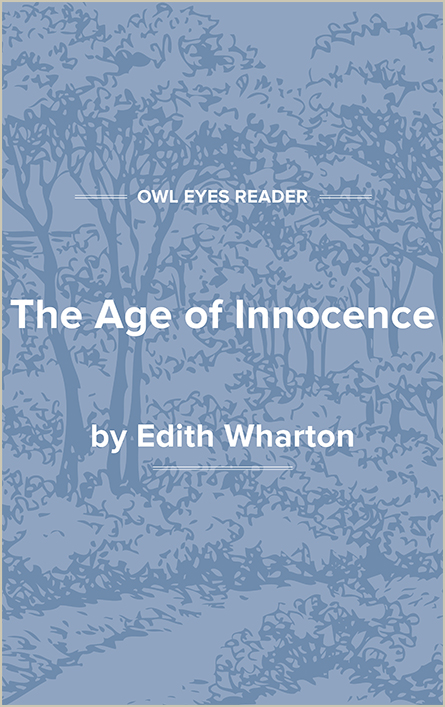 The Age of Innocence, often considered Wharton's masterpiece, takes a nostalgic look at the New York society of her childhood, which had undergone enormous changes by 1920. In a mood tempered from that expressed in the 1905 House of Mirth, Wharton criticizes many aspects of this society, especially its hypocrisy and tendency to stifle creativity and genuine emotion. In this retrospective she also finds value in its stability and traditions. At the height of her powers in this novel, Wharton brilliantly uses plot, character, dialogue, point of view, and irony to express her themes, including the needs of the individual versus the claims of the society and the tenuous balance between the values of innocence and experience and between tradition and change.
The novel's plot revolves around the choice the protagonist, Newland Archer, must make between two women—his fiancé, May Welland, a flower of New York society, and her cousin, Countess Ellen Olenska, recently separated from her abusive husband and settled in New York. The Welland family enlists Newland to talk the countess out of seeking a divorce in order to avoid scandal and pain to her family. Newland soon falls in love with Ellen and, reversing his position, asks her to divorce her husband to marry him. Ironically, Ellen refuses, persuaded too well by Newland's arguments against divorce, and Newland marries May. Ellen eventually returns to Europe, May announces her pregnancy, and Newland's fate is sealed. Twenty-five years later, after May's death, Newland passes up an opportunity to see Ellen in Paris, realizing that his dreams have become more important to him than reality.
The society Wharton describes in The Age of Innocence values conformity over originality, superficial pleasantness over reality, and respectability over individual freedom. Newland understands that"they all lived in a kind of hieroglyphic world, where the real thing was never said or done or even thought, but only represented by a set of arbitrary signs," but he does not disapprove. Smugly self-satisfied, he feels intellectually and culturally superior to his social set but nevertheless embraces most of its moral doctrines and values, never fully realizing the extent of his own conformity.
In fact, Newland's attraction to May is indicative of his acceptance of the establishment's values. Initially, "[n]othing about his betrothed pleased him more than her resolute determination to carry to its utmost limit that ritual of ignoring the 'unpleasant' in which they had both been brought up." May's innocence, which Newland initially finds appealing, becomes oppressive, however, and Newland feels trapped by this creature he helped to create. Ironically, although May does represent the weaknesses of the old guard—innocence, hypocrisy, and stifling propriety—she also embodies its strength: stability and respect for tradition. Yet for twenty-five years, Newland fails to look beyond his own preconceptions of his wife to appreciate these qualities.
Ellen Olenska, on the other hand, embodies experience, intellect, freedom, and individuality. Separated from her husband, a stranger in her own country, and largely ignorant of the strict codes of the society she was born into, she symbolizes disintegration of tradition and lack of stability. At the same time, she offers honesty and genuine emotion to a culture sorely lacking these qualities.
Wharton invests the novel's minor characters with symbolic weight as well. The van der Luydens, the social establishment's judges of morals and taste, appear in terms of death and dying. Mrs. van der Luyden "struck Newland Archer as having been rather gruesomely preserved in the airless atmosphere of a perfectly irreproachable existence, as bodies caught in glaciers keep for years a rosy life-in-death."
(The entire page is 917 words.)
Owl Eyes subscribers get unlimited access to our expert annotations, analyses, and study guides on your favorite texts. Master the classics for less than $5/month!