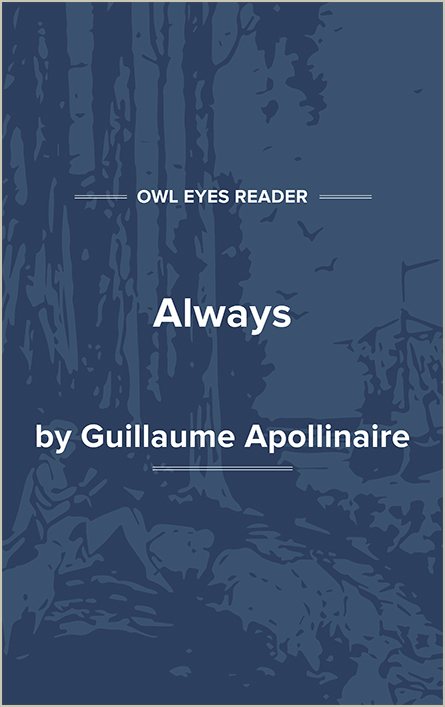 Guillaume Apollinaire Biography
Other Literary Forms
Besides poetry, Guillaume Apollinaire wrote a number of prose works. Among the most significant of his short stories and novellas are L'Enchanteur pourrissant (1909; the putrescent enchanter), published by Henry Kahnweiler and illustrated with woodcuts by André Derain; L'Hérésiarque et Cie. (1910; The Heresiarch and Co., 1965), a contender for the Prix Goncourt; and Le Poète assassiné (1916; The Poet Assassinated, 1923). They are contained in the Pléiade edition, Œuvres en prose (1977), edited by Michel Décaudin.
Apollinaire collaborated on numerous plays and cinema scripts. His best-known individual works in these genres are two proto-Surrealist plays in verse: Les Mamelles de Tirésias (The Breasts of Tiresias, 1961), first published in the magazine SIC in 1918, and Couleur du temps (the color of time), which first appeared in the Nouvelle Revue française in 1920. They are available in the Pléiade edition of Œuvres poétiques (1956). Apollinaire also published a great deal of art criticism and literary criticism in journals, newspapers, and other periodicals. In 1913, the articles published before that year were collected in Peintres cubistes: Méditations esthétiques (The Cubist Painters: Aesthetic Meditations, 1944). In 1918, Mercure de France published his famous manifesto "L'Esprit nouveau et les poètes" ("The New Spirit and the Poets"), which later appeared, along with many other articles, in Chroniques d'art, 1902-1918 (1960), edited by L. C. Breunig. The same collection has been translated into English as Apollinaire on Art: Essays and Reviews, 1902-1918 (1972).
Achievements
After Guillaume Apollinaire, French poetry was never the same again. Writing at the end of the long Symbolist tradition, a tradition very apparent in his early works, Apollinaire moved into a new perception of the world and of poetry. In the world of his mature verse, spatial and temporal relations are radically altered. Apollinaire's was one of the first voices in French poetry to attempt to articulate the profound discontinuity and disorientation in modern society. At the same time, however, his works reflect hope, frequently ecstatic, in the promise of the future.
Apollinaire's sense of radical discontinuity was reflected in his formal innovations, analyzed in considerable depth by Jean-Claude Chevalier in Alcools d'Apollinaire (1970). Immediately before the publication of Alcools, Apollinaire went through the volume and removed all punctuation, a device which he continued to use in most of his later works. His most notable poems, such as "Zone," "Liens" ("Chains"), and "Les Fenêtres" ("Windows"), use free verse with irregular rhyme and rhythm; his most startling works are the picture poems of Calligrammes, a form which he falsely claimed to have invented. They consist of verses arranged to give both a visual and an auditory effect in an effort to create "simultaneity."
Like the cubists and other modern painters who sought to go beyond the traditional boundaries of space and time, Apollinaire desired to create the effect of simultaneity. This ambition is evident in "Zone," with its biographical, geographical, and historical discontinuity. In this single poem, the poet leaps from his pious childhood at the Collège Saint-Charles in Monaco to the wonders of modern aviation and back to the "herds" of buses "mooing" on the streets of Paris. Perhaps his most obvious achievement in simultaneity, though less profound, is in "Lundi rue Christine" ("Monday in Christine Street"), which records overheard bits of conversation in a "sinistre brasserie," a low-class café-restaurant that Apollinaire had frequented as early as 1903.
The friend and collaborator of many important painters during the exciting years in Paris just before World War I, Apollinaire began associating with artists when he met Pablo Picasso in 1904, after which he frequented the famous Bateau-Lavoir on the rue Ravignan...
(The entire page is 4,890 words.)
Owl Eyes subscribers get unlimited access to our expert annotations, analyses, and study guides on your favorite texts. Master the classics for less than $5/month!