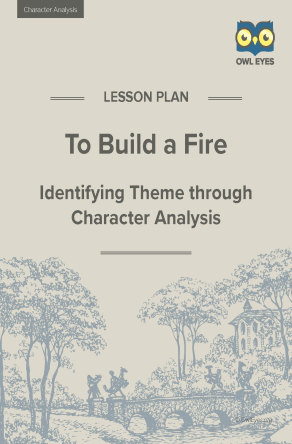 To Build a Fire Character Analysis Lesson Plan
22 pages

Subject:

Character Analysis, Historical Context, Plot, Setting, Themes, Lesson Plans and Educational Resources

Common Core Standards:

RL.9-10.1, RL.9-10.2, RL.9-10.3, SL.9-10.1

Grade Levels:

7, 8, 9, 10, 11
Product Description
Identifying Theme through Character Analysis
This lesson plan focuses on London's communicating themes in the story by developing the protagonist, "the man," as a dynamic character. By analyzing the man as a dynamic character, students will be better able to draw themes from the text.
About This Document
Owl Eyes lesson plans have been developed to meet the demanding needs of today's educational environment and bridge the gap between online learning and in-class instruction. The main components of each plan include the following:
An introduction to the text
A step-by-step guide to lesson procedure
Previous and following lesson synopses for preparation and extension ideas
A collection of handouts and worksheets complete with answer keys
Each of these comprehensive, 60-minute plans focus on promoting meaningful interaction, analytical skills, and student-centered activities, drawing from the Common Core Standards for English Language Arts and the expertise of classroom teachers.