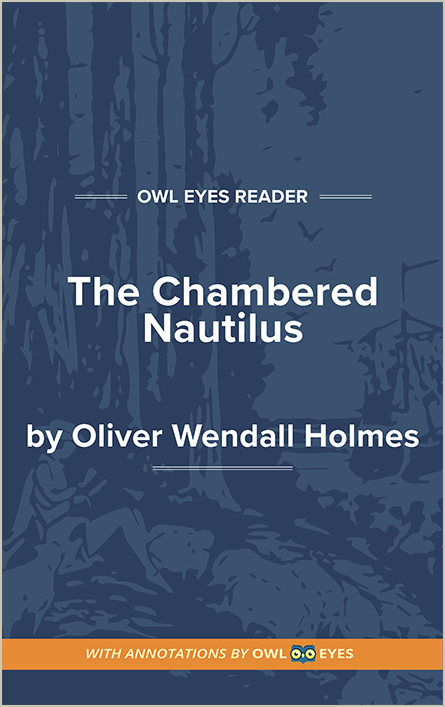 Literary Devices

in

The Chambered Nautilus
Rhyme and Meter: Holmes composed "The Chambered Nautilus" in a variation of rhyme royal, a verse form invented by Geoffrey Chaucer. The poem contains five septets, or seven-line stanzas, each with an unusual metrical mix of pentameter, trimeter, and hexameter. The rhymes are very straightforward, with each stanza following an AABBBCC scheme.
The Many Metaphors of the Nautilus: Throughout the poem, Holmes continually refigures and reimagines the primary subject, the chambered nautilus. The nautilus itself is figured as a ship and a "child of the wandering sea"; the shell as "webs of living gauze," an "irised ceiling," and a "sunless crypt"; and finally the chambers as "deep caves of thought" as well as "dwellings," "mansions," and "temples." The nautilus, in all its intricacy, provides seemingly endless fodder for Holmes's figurative imagination.
Literary Devices Examples in The Chambered Nautilus: