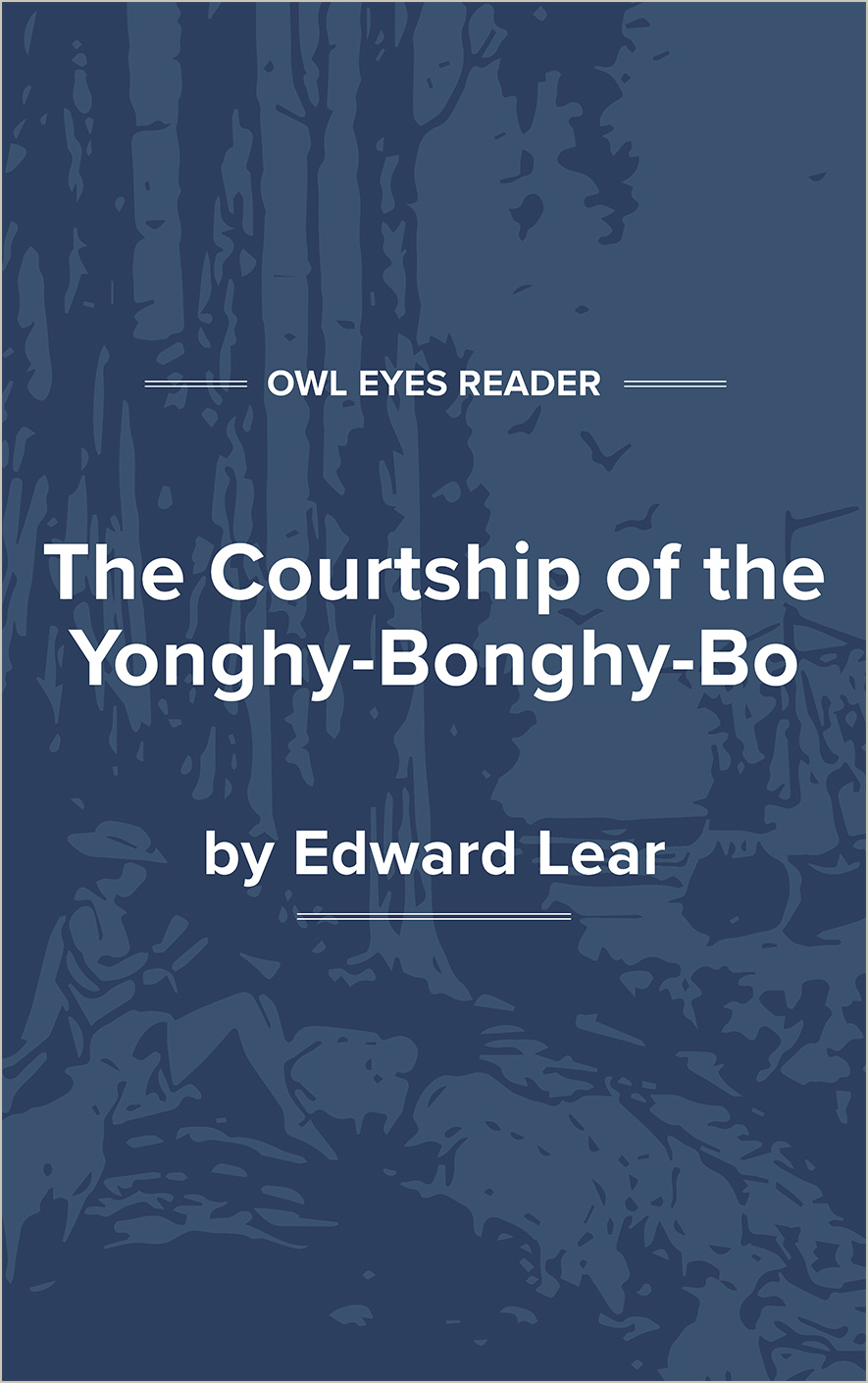 The humorist and artist Edward Lear was born in Holloway, near London, on May 12, 1812. Four years later, his stockbroker father, Jeremiah, lost his fortune, causing Edward's mother, Ann, to become withdrawn; consequently, Edward's sisters raised him. During childhood, he began suffering from epilepsy and depression. Based on a cryptic entry in Lear's 1871 diary, Vivien Noakes surmises that young Lear was sexually molested by a cousin.
Because of the family's poverty, fifteen-year-old Edward started earning his living as an artist. At eighteen, he published his parrot illustrations and was nominated for membership in the Linnean Society. His artistic career thereafter consisted of acquiring patrons, publishing a series of travel books (inspired by wanderings throughout Europe), and learning oil painting. To his frustration, he gained little recognition for the last of these activities.
His enduring fame, however, comes from his nonsense writings. These probably began between 1832 and 1836 at Knowsley Hall, where he was drawing the earl of Derby's private zoo. Lear found there a book of limericks titled Anecdotes and Adventures of Fifteen Gentlemen. These inspired him first to illustrate others' verse and then to compose his own. On his second visit to that estate in 1837, he presumed that he would be dining with the servants, but the children of the household had been so taken with Lear's compositions that he was invited to dine with the family (a status he maintained on subsequent visits). Not until 1846, however, did he bother to publish a collection of 110 of his limericks as A Book of Nonsense; even then, he protected himself with the pseudonym "Derydown Derring" (as if only a daring author would so affront Victorian seriousness).
Every page of A Book of Nonsense consists of two limericks, each with a deliberately childlike picture. Having previously drawn some comic illustrations to deride other people's texts, he often introduces a humorous difference between his own poems and pictures. The primary source of comedy, however, is satire of old people, who, instead of being venerable, appear grotesque and foolish, with their infant-sized heads and long noses.
In 1871 he built a villa, his first home, in San Remo, Italy, and published Nonsense Songs, Stories, Botany, and Alphabets . It begins with "The Owl and the Pussy-cat," which remains his most famous lyric even though his melody for it has been lost. He wrote it to comfort John Addington Symonds's three-year-old daughter, Janet, when she became ill at Christmas. Ostensibly a happy romance, the poem is satiric, marrying a bird and cat (natural enemies), while the minister who joins them is a turkey. Other notable lyrics in the book include "The Jumblies" (about tiny creatures who go to sea in an inherently leaky sieve) and "Calico Pie" (about a series of lost animals). Indeed, all of the silliness has a plaintive undercurrent and a theme of wandering—not surprising from a depressive who spent most of his life traveling. The stories in the volume have a similar...
(The entire page is 745 words.)
Owl Eyes subscribers get unlimited access to our expert annotations, analyses, and study guides on your favorite texts. Master the classics for less than $5/month!