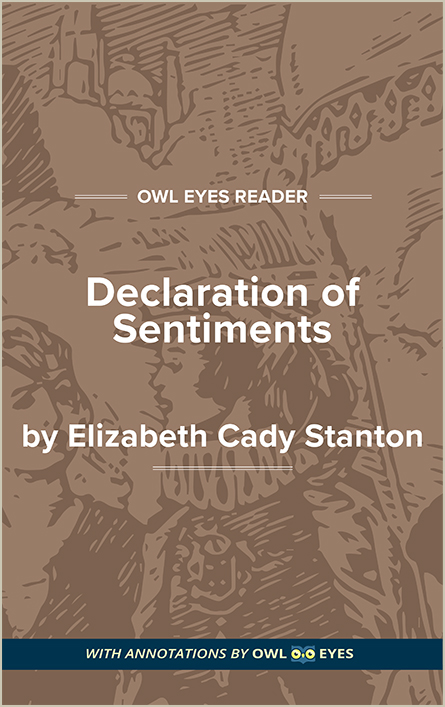 Annotated Full Text

Publication Date:

1848

Flesch-Kincaid Level:

16

Approx. Reading Time:

5 minutes
Elizabeth Cady Stanton delivered her "Declaration of Sentiments," also known as the "Declaration of Rights and Sentiments," at the Wesleyan Methodist chapel during the Seneca Falls Convention, the first women's right convention in American history. On July 19, 1848, the first all-women day of the convention, Stanton read her declaration, which she modeled off the Declaration of Independence, before a crowd of two hundred women. On July 20, the second day of the convention, about forty men joined the convention, where the declaration and its twelve resolutions were signed by 68 women and 32 men. One of these supporters, African American abolitionist Frederick Douglass, described Stanton's document as "the grand movement for attaining the civil, social, political, and religious rights of women." However, others saw Stanton's words as an abomination and rescinded their support for the women's rights movements, even describing the document as "the most shocking and unnatural event ever recorded in the history of womanity" (Oneida Whig). Nevertheless, the convention and Stanton's impassioned rhetoric galvanized the women's rights movements and provided the groundwork for the eventual ratification of the 19th amendment in 1920, which legalized women's suffrage.
Annotated Full Text

Publication Date:

1848

Flesch-Kincaid Level:

16

Approx. Reading Time:

5 minutes