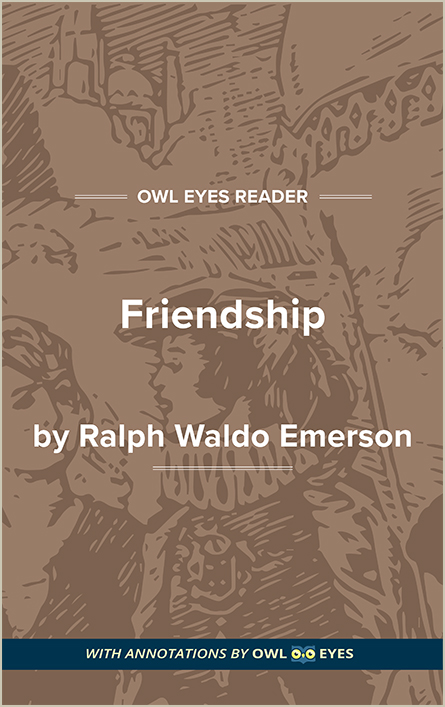 Annotated Full Text

Literary Period:

Transcendentalism

Publication Date:

1841

Flesch-Kincaid Level:

8

Approx. Reading Time:

29 minutes
Ralph Waldo Emerson's essay "Friendship"—along with others such as "History," "Self-Reliance," and "Circles," was published in Essays: First Series in 1841. Although originally intended as a lecture, "Friendship" was never delivered before a public audience. Instead, it remains one of Emerson's most notable published essays. Emerson draws on correspondences with friends and personal journal entries to provide readers with insight on the various facets of his friendships. He touches on themes such as the process of building meaningful bonds as well as the paradoxical nature of friendship. With the inclusion of a letter written to a hypothetical friend, Emerson suggests that friendship is a fallacy that can only be realized when the bond between two individuals transcends earthly ties. In Emerson's opinion, friends must treat one another with both a sense of detachment and closeness, such that each individual may maintain their oneness while simultaneously revering the other as spiritual partners.
Annotated Full Text

Literary Period:

Transcendentalism

Publication Date:

1841

Flesch-Kincaid Level:

8

Approx. Reading Time:

29 minutes