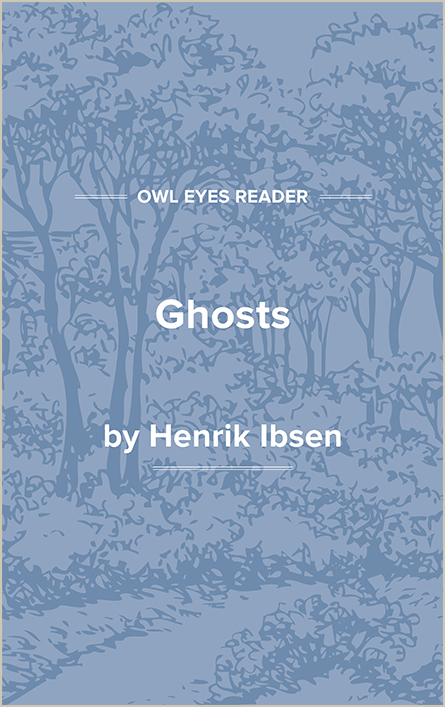 Flesch-Kincaid Level:

3

Approx. Reading Time:

1 hour and 47 minutes
[A spacious garden-room, with one door to the left, and two doors to the right. In the middle of the room a round table, with chairs about it. On the table lie books, periodicals, and newspapers. In the foreground to the left a window, and by it a small sofa, with a worktable in front of it. In the background, the room is continued into a somewhat narrower conservatory, the walls of which are formed by large panes of glass. In the right-hand wall of the conservatory is a door leading down into the garden. Through the glass wall a gloomy fjord landscape is faintly visible, veiled by steady rain.]
[ENGSTRAND, the carpenter, stands by the garden door. His left leg is somewhat bent; he has a clump of wood under the sole of his boot. REGINA, with an empty garden syringe in her hand, hinders him from advancing.]

REGINA. [In a low voice.] What do you want? Stop where you are. You're positively dripping.

ENGSTRAND. It's the Lord's own rain, my girl.

REGINA. It's the devil's rain, I say.
Flesch-Kincaid Level:

3

Approx. Reading Time:

1 hour and 47 minutes