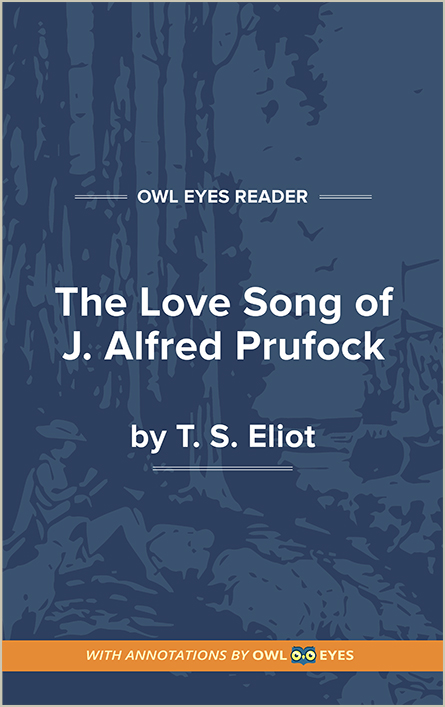 Allusion

in

The Love Song of J. Alfred Prufrock
Dante: Eliot was a lifelong reader and lover of the work of Dante Alighieri. Eliot opens "Prufrock" with an epigraph drawn from the 27th canto of Dante's Inferno. In Inferno, the quoted lines are spoken by the character Guido da Montefeltro, a fraudulent politician condemned to hell. Guido agrees to tell his shameful story to Dante because he believes that Dante will never escape hell to spread word of it. J. Alfred Prufrock resembles Guido da Montefeltro in divulging his neuroses, insecurities, and sins. Prufrock's sense of personal insignificance—"I am… an easy tool / Deferential, glad to be of use"—fuels his willingness to share.
Michelangelo: The couplet "In the room the women come and go / Talking of Michelangelo" forms a sort of refrain. It appears twice in the poem, always as a stand-alone stanza. The humorous meter and clear end-rhyme give the couplet a lighthearted tone. The reference to Michelangelo is intended to illustrate the banal conversations in which Prufrock finds himself. The talk seems to be shallow, with the breezy name-dropping of famous artists.
Hamlet: In one passage, Prufrock envisions himself as a character in a Shakespearean play. As he observes, "No! I am not Prince Hamlet, nor was meant to be; / Am an attendant lord." On one level, the allusion shows Prufrock's modest self-image. He admits that he does not possess Hamlet's grandiosity and self-importance. He feels more akin to a Fool, a side character who "start[s] a scene or two." Yet Prufrock is Hamlet-esque in his self-consciousness and his attraction to existential quandaries. Early in the poem, Prufrock mentions "an overwhelming question" that he never states. As the poem unfolds, it seems viable that Prufrock's big, burning question is similar to Hamlet's: "To be or not to be? That is the question."
Allusion Examples in The Love Song of J. Alfred Prufrock: