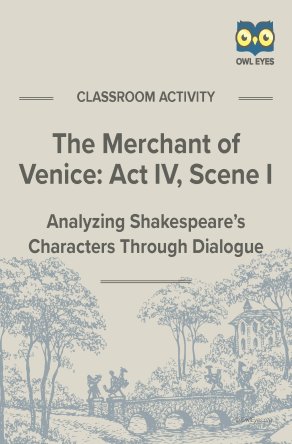 The Merchant of Venice Act IV, Scene I Dialogue Analysis Activity
13 pages

Subject:

Character Analysis, Tone, Lesson Plans and Educational Resources

Common Core Standards:

RL.11-12.1, RL.11-12.5, RL.9-10.1, RL.9-10.3
Product Description
Written in 1596, The Merchant of Venice is set in Venice, Italy. The plot focuses on the friendship between the merchant Antonio and Bassanio, a young man without means who seeks to marry Portia, an heiress. Driven to help Bassanio, Antonio finances the courtship by borrowing money from Shylock, a Jewish moneylender who despises him. Shylock makes the loan with the provision that Antonio will repay it with a pound of his own flesh if he is unable to settle his account by the appointed time. Ultimately, Antonio is unable to repay his loan, and Shylock demands that the Duke of Venice enforce the brutal terms of the bond. In act IV, scene I, Shylock meets Antonio in court to collect his pound of flesh. Other major characters are present during the dramatic confrontation, including Bassanio, his friend Gratiano, and Portia, who is disguised as a learned counselor to the court. Their characters, as well as Shylock's and Antonio's, are further developed through the dialogue. Note: the anti-Semitic perspectives in the scene reflect the strong anti-Semitism prevalent in England during Shakespeare's time. For more on this, refer to our historical context page.
Skills: character analysis, drawing inferences from text, interpreting diction for connotative meaning
About This Document
The Owl Eyes Dialogue Analysis activity gives students an opportunity to practice examining and analyzing passages from Shakespeare's plays. Since the theaters of Shakespeare's time lacked elaborate sets and lighting and his scripts have sparse stage directions, dialogue is one of the few tools we can employ in understanding his characters. This worksheet focuses on the essential role of diction (word choice) in creating mood and subtext in each scene, developing characters, and establishing events in the plot. The main components of this activity include the following:
A contextualized summary of the selected passages
A selection of excerpts for examination
A table with scaffolded question progression
A step-by-step guide to activity procedure
A complete answer key
In completing this activity, students will be able to analyze passages of dialogue to identify the speaker's character traits, conflicts, and motivations as well as determine how diction creates mood.