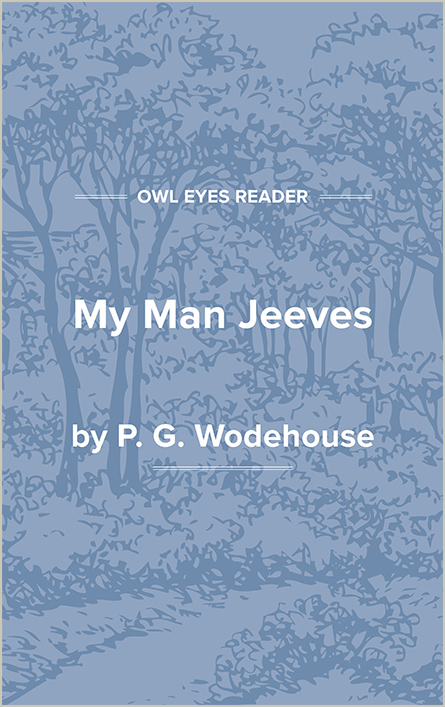 P. G. Wodehouse Biography
Pelham Grenville Wodehouse (WOOD-hows) was born October 15, 1881, in Guildford, Surrey, England, the third of four sons of Henry Ernest and Eleanor Deane Wodehouse. His father spent his career in the Hong Kong civil service, rising to a judgeship. Wodehouse lived only one year in Hong Kong, spending the remainder of his childhood in England with friends and relatives, when not in school. This upbringing accounts for the inordinately large number of aunts and uncles in his fiction.
Wodehouse, known lifelong to his friends as "Plum," followed his brother Armine to school at Dulwich and distinguished himself in Latin and Greek composition, football, and cricket and by writing comic verses for the school magazine, of which he was editor. Wodehouse's school days were perhaps his happiest, the camaraderie of school being celebrated often in his fiction, where "old boys" never let each other down. Seven of his first dozen books are school novels inspired by his Dulwich experiences, most notably Mike: A Public School Story (1909; also known as Enter Psmith, Mike at Wrykyn, and Mike and Psmith), which examines the disadvantages of joining an older brother at school. More important, at Dulwich Wodehouse discovered writers, such as Charles Dickens, W. S. Gilbert, Rudyard Kipling, and Arthur Conan Doyle, who profoundly influenced his development as a literary artist.
Wodehouse had planned to continue his education at Oxford, but his father's financial setbacks forced him to join the London office of the Hong Kong and Shanghai Bank. In several Wodehouse novels, the possibility of having to work in a bank seems grim to the protagonists, and the author himself hated the routine of his job and was determined to leave the bank before being sent to a position in the Far East. After two years as a bank clerk, he was hired by the Globe, a London newspaper, through a former master at Dulwich, and he soon inherited the master's column. During this period, he began publishing school novels as serials in boys' magazines and more sophisticated stories in such magazines as Strand. The school serials were also published as books, beginning with The Pothunters (1902).
On a trip to the United States in 1909, Wodehouse sold stories to Cosmopolitan and Collier's magazines for much more money than he had received in England. He resigned from the Globe, settled in Greenwich Village in New York City, and tested the American market further, writing detective stories for pulp magazines and serving as drama critic for Vanity Fair. In 1914, the Saturday Evening Post bought Something Fresh (1915; also known as Something New), the first of the series of novels set at Blandings Castle, and went on to publish twenty-one of his novels as serials. Also in 1914, he married Ethel Newton Rowley, a widow. Wodehouse later adopted Ethel's daughter, Leonora.
Unable to serve in the British army during World War I because of bad eyesight, Wodehouse spent the war in America and began working in musical comedy in 1915 by collaborating, as lyricist, with composer Jerome Kern and playwright Guy Bolton. At one point, they had five shows running on Broadway and another twelve productions on the road. Wodehouse also wrote lyrics for such composers as George Gershwin, Cole Porter, Victor Herbert, and Sigmund Romberg. His best-known song is "Bill," with music by Kern, originally written for Oh, Lady! Lady! (1918) and incorporated into Show Boat in 1927. Wodehouse also wrote plays with Bolton, adapted foreign plays, and dramatized his novels. His stories and novels, such as A Damsel in Distress (1919), often draw upon his theatrical experiences.
The Wodehouses and their numerous pets spent the 1920's traveling between the United States, England, and France. Because of British and American income taxes and British quarantine laws that prevented them from taking their dogs in and out of England, the Wodehouses decided to settle in France. In 1934, they bought a country house in Le Touquet, where...
(The entire page is 1,148 words.)
Owl Eyes subscribers get unlimited access to our expert annotations, analyses, and study guides on your favorite texts. Master the classics for less than $5/month!