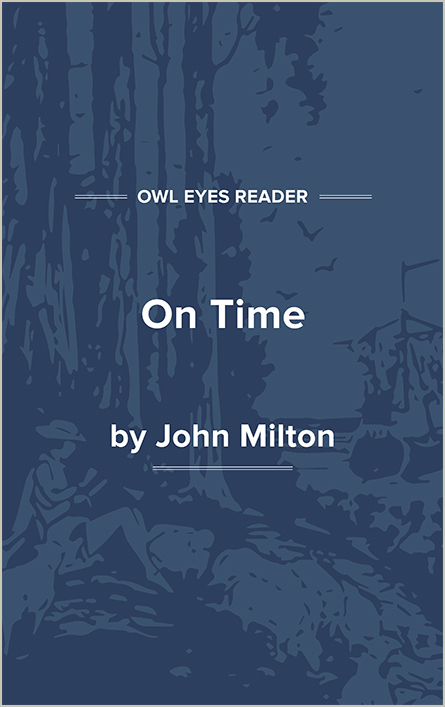 John Milton was born in Bread Street, Cheapside, London, England, on December 9, 1608. His father, John Milton, was a very successful scrivener, one who copied legal documents and performed some of the services associated with banking and finance. His mother's name was Sara Jeffrey Milton. Though the younger Milton was never rich, his father made enough money to guarantee his son's financial independence throughout the great poet's lifetime. Milton was a precocious child, demonstrating a particular facility with ancient and modern languages. By the time he was graduated from college, Milton read, spoke, and wrote Latin nearly as well as he did English and was competent in Greek, Hebrew, French, and Italian. From approximately the age of nine to twelve, Milton was tutored at home, and from the age of twelve to sixteen he walked about three blocks to attend St. Paul's School at the famous London cathedral.
Milton started college in 1625, a few months after turning sixteen, attending Christ's College, Cambridge, where he earned the nickname "the lady of Christ's" because he took meticulous care of his appearance, had delicate features, and disdained many of the masculine activities, such as drinking and visiting brothels, that occupied many of his schoolmates. He may have been "rusticated," or suspended from school, briefly, in 1626, because of a conflict with one of his teachers, but he returned to earn his B.A. in 1629 and his M.A. in 1632. Initially, Milton had planned to be a minister, but as a Puritan, or radical Protestant, he came to believe that the Anglican Church was too much like the Catholic church and decided to dedicate his life to poetry instead. While in school, Milton began writing poetry, mostly in Latin, and in December, 1629, just after his twenty-first birthday, he wrote, in English, "On the Morning of Christ's Nativity," which in effect signaled his great promise as a poet.
In the early 1630's, Milton's family moved to Horton, Buckinghamshire, seventeen miles west of London, where Milton's father retired to a country estate. After leaving Cambridge in 1632, Milton lived with his family for six years (usually called the Horton period). During this time, he read voraciously, attempting to complete his education by reading everything that was written in the languages that he had mastered. While at Cambridge and during the years of the Horton period, Milton wrote many of the early works that helped to make him famous during his lifetime—the twin "mood" poems "L'Allegro" and "II Penseroso," the masque, or play, Comus (pr. 1634, pb. 1637), the pastoral elegy "Lycidas," and several of his familiar sonnets, such as "How Soon Hath Time." Some poems, such as "Lycidas," were published under very particular circumstances and can be easily dated, but most of Milton's early poems circulated in manuscript well before they were formally published for the first time in his collected poems of 1645.
In August, 1638, Milton set out on his Grand Tour, a trip on the European continent that most educated men undertook in Milton's day to complete their studies and to polish them as gentlemen. Milton traveled mostly in Italy, where he met many important people, including the great astronomer Galileo. He returned home somewhat prematurely in August,1639, because England was nearing its momentous civil war.
The English Civil War, which began in 1642, was caused by a power struggle between the monarchy and Parliament. In 1625, Charles I had taken over the throne from his father, James I, and by 1629 had dissolved Parliament in an attempt to govern autocratically. Parliament, however, insisted on a more representative form of government, and years of political infighting culminated in armed conflict in August, 1642. In 1647, the king's forces were defeated, and the king was taken prisoner. Then, in an act unprecedented in English history, Charles was executed on January 30,...
(The entire page is 1,549 words.)
Owl Eyes subscribers get unlimited access to our expert annotations, analyses, and study guides on your favorite texts. Master the classics for less than $5/month!