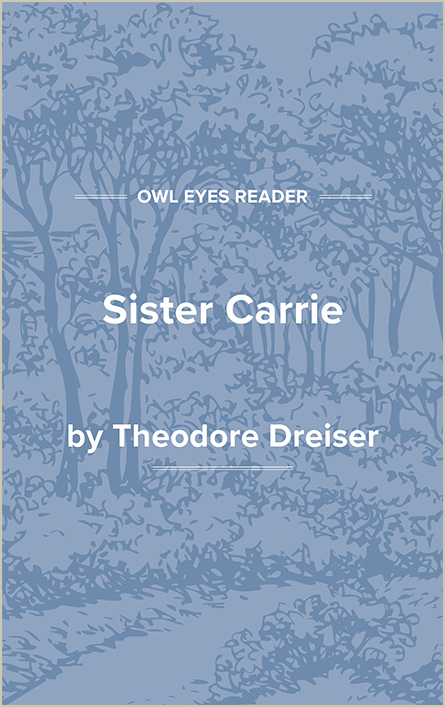 Theodore Dreiser Biography
Theodore Herman Albert Dreiser was the twelfth of thirteen children born to John Paul Dreiser and Sarah Schnepp Dreiser. John Paul Dreiser, a weaver, had come from Mayhen, Germany, in the mid-1840's, settling in New England. After several years, he moved to a German community in Indiana, where he met Sarah, the daughter of a Mennonite farmer. Because Dreiser was unable to find work in this community, he and Sarah eloped to Dayton, Ohio, but returned to Fort Wayne, Indiana, before their first child was born.
At first, the elder Dreiser tried to build a secure life for his family, establishing his own woolen mill at Sullivan, Indiana, in 1867. Unfortunately, the mill burned to the ground just when it was starting to prosper. While Dreiser was supervising the building of a new mill, a ceiling beam slipped from the hands of a workman, striking Dreiser on the head. Following this accident, which resulted in what is now known as minimal brain dysfunction, he lost interest in his mill, as well as his ambition and his ability to hold a steady job. He became fanatical in the practice of his Catholic faith and extremely strict in the discipline of his children.
Sarah Dreiser has often been called the family's financial and emotional mainstay, keeping things together by taking in boarders and laundry. Biographers who understand the family well, however, report that she was inept in handling money, overly lenient with the children (perhaps in compensation for her husband's strictness), and given to fancy and superstition. Although Sarah could be a strong and supportive mother (as she demonstrated when her daughter Maine became pregnant), she could also be "lovingly cruel." When the children were naughty, for example, she threatened to abandon them, once even packing her bag and hiding in a cornfield while the younger ones cried hysterically.
Because Theodore was rather puny as a toddler, Sarah singled him out for special attention, often inviting him to sit at her feet while she sewed. This tender tableau also had a sinister side, however, for she would call the child's attention to her broken shoes, asking him if he did not pity his mother in her poverty. Perhaps because of this repeated experience, Theodore became very aware of women's clothing, especially the condition of their shoes—a detail frequently mentioned in his writing.
Thus, Theodore grew up in an atmosphere of financial instability and emotional conflict. The family moved frequently, which meant that the children's education suffered. Nevertheless, Theodore was an avid reader and educated himself. Although he had completed only one year of high school, he was admitted to Indiana University in 1889 as a special student. Not being academically inclined, however, he dropped out after one year.
During the 1890's, Dreiser worked as a feature reporter for a number of newspapers, among them the Chicago Globe, the St. Louis Globe-Democrat and Republic, the Pittsburgh Dispatch, and the New York World. In addition, he edited Ev'ry Month, a musical magazine, and contributed essays, poems, and stories to magazines such as Harper's, Cosmopolitan, Munsey's, and Metropolitan. While he strove for realism in his magazine stories, Dreiser always tinged them with a subtle sense of optimism.
Dreiser's friend Arthur Henry had been urging him to write a novel but had no idea for a topic. Finally, while Dreiser was visiting at Henry's home, he took a piece of yellow paper and scribbled the title "Sister Carrie," evidently thinking of his sister Emma, whose real life experiences were similar to those of Carrie. From the title to the point when Carrie meets Hurstwood, the novel "wrote itself"; after the Hurstwood incident, however, it moved in a series of spurts and halts. Henry urged Dreiser on, occasionally writing bits of Sister Carrie himself to keep the novel going.
Sister Carrie was published by Doubleday in 1900, but its sales were suppressed for seven years on the grounds...
(The entire page is 979 words.)
Owl Eyes subscribers get unlimited access to our expert annotations, analyses, and study guides on your favorite texts. Master the classics for less than $5/month!