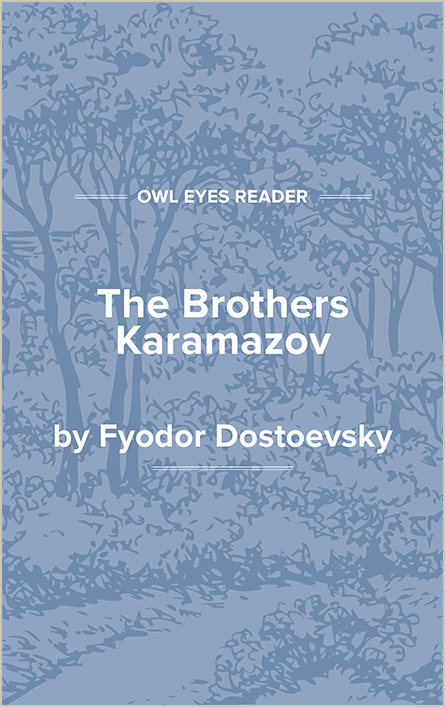 Fyodor Dostoevsky Biography
Fyodor Mikhailovich Dostoevski (dahs-tuh-YEHF-skee), novelist, journalist, religious polemicist, and political reformer, was born in Moscow, Russia, on November 11, 1821, the second child of Mikhail Andreevich Dostoevski and Marya Fedorovna Nechaeva. His father, a surgeon, had served for eight years in the army and, at Fyodor's birth, held a staff position at St. Mary's Hospital for the destitute of Moscow. An able and intelligent man who had succeeded in pulling himself out of generations of poverty, Dostoevski's father was nonetheless often violent, moody, and given to bouts of heavy drinking that frightened his children. His mother was an engaging and attractive woman, practical, efficient, and cheerful in running her household.
Dostoevski had seven brothers and sisters. He was closest to his older brother, Mikhail, and the third child in the family, his sister Varvara. These three seem to have formed a closer relationship to their father than the youngest five, whose lives were centered almost entirely on their mother. Mikhail, Fyodor, and Varvara shared intellectual and literary interests, and Fyodor's novels and stories reveal themes, types, and motifs closely linked to his lifetime experience with these two close siblings.
Dostoevski spent the first twelve years of his life at home, where he was schooled by his father and by private tutors. He finished his early education at the best boarding school in Moscow, an educational experience recorded in fictional alteration in his novel Podrostok (1875; A Raw Youth, 1916). At sixteen, he entered the St. Petersburg military engineering school, where he was an indifferent student of soldierly science, spending much of his time at musical and theatrical performances, on nights out with fellow cadets, and especially in reading. Dostoevski was a voracious reader, working his way through the classics, being particularly fond of Homer and William Shakespeare. So taken was he with the greatness of these authors that he determined to master the literary craft in a way never before done in the Russian language. This determination, coupled with his father's murder at the hands of the peasants on a small family estate and his mother's death from tuberculosis, led Dostoevski in 1844 to begin life anew. He resigned his engineering lieutenant's commission and became a full-time writer.
His first two literary attempts illustrate the power that he was to manifest throughout his career. First, he translated into Russian the French novelist Honoré de Balzac's Eugénie Grandet (1833; English translation, 1859). Balzac had recently been lionized on a visit to St. Petersburg, and Dostoevski saw his chance to create a success and make some money. Yet it is his choice of this particular work to translate that is important: Eugénie Grandet reveals motifs of criminality, the psychology of self-sacrifice, and the power of obsessive behavior that inform much of Dostoevski's later work. Second, he produced the short novel Bednye lyudi (1846; Poor Folk, 1887), which a friend gave to the great Russian literary critic Vissarion Belinsky to read. To Dostoevski's surprise and delight, Belinsky gave it high praise, recognizing the young author's uncommon and powerful insight into the tragic victimization of people caught in circumstances beyond their control. In this novel, Dostoevski reveals the ability to show from within a character's psychology, a new technique that caused the literary elite of his day to rank him immediately with Russia's greatest writers.
During the next six years, Dostoevski wrote many works showing an astonishing range of style and form. The most important of these is the novel Dvoynik (1846; The Double , 1917), in which a morbidly delicate clerk is shown progressively sinking into insanity, an almost clinical description underscored by the hero's encounters with beings in mirrors, on the street, and in dreams, all of whom are embodiments of his worst pathological desires...
(The entire page is 1,040 words.)
Owl Eyes subscribers get unlimited access to our expert annotations, analyses, and study guides on your favorite texts. Master the classics for less than $5/month!