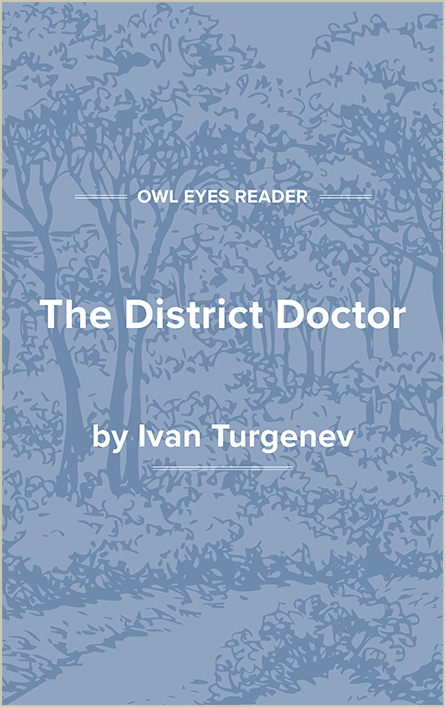 Ivan Sergeyevich Turgenev (tewr-GYAYN-yuhf), the first of the great Russian novelists to be read widely in Europe, was born in Orel, Russia, in 1818. He was the second of three sons born to his unhappily married parents: harsh and tyrannical Varvara Petrovna Lutovinov, who had inherited large estates at twenty-six after an unhappy childhood, and cold, handsome, philandering Sergey Nikolayeyvich Turgenev, an impecunious young cavalry officer who had married this woman six years his senior for her money. The child, who was to be known as the most European of the great Russian masters, first saw Europe at the age of four with his family and its entourage.
Turgenev spent his earliest years in the elegance of the family mansion on the Spasskoye estate. When the family moved to their Moscow house in 1827, Turgenev began to prepare for the entrance examinations to Moscow University. By the time he entered, in 1834, he had fallen under the influence of Georg Wilhelm Friedrich Hegel and Friedrich Schiller. In the same year, however, Colonel Turgenev transferred his son to St. Petersburg University. Then, with his wife away in Italy, the aloof colonel died.
Turgenev had written since childhood, and at St. Petersburg he continued his attempts, seeing two of his poems published a year after his graduation in 1837. In 1838 he went to Berlin to study intensively for a career as a teacher of literature, returning to St. Petersburg in 1841 to prepare for his M.A. examinations. Under the impact of an unhappy love affair, however, he failed to take his degree. The poem Parasha, published in 1843, signaled Turgenev's escape from romanticism and was praised by critics for its sensitive simplicity.
When he resigned from the civil service job he had taken in 1842, his mother sharply reduced his allowance, and from that time on their relationship steadily became more acrimonious. He met Madame Pauline Viardot, the magnetic opera singer to whom he was to be devoted for the rest of his life, alternately her enchanted and despairing admirer. He published a realistic sketch in The Contemporary Review and then others in a similar vein. In February, 1847, he left Russia with Viardot and her husband, despite his mother's frantic efforts to prevent him from doing so. He left the Viardots at Berlin, and in Paris, Brussels, and Lyons he continued to work on what were to be A Sportsman's Sketches. Taking up residence at Courtavenel, the Viardots' summer home, in the summer of 1848, he stayed into 1849. By the summer of 1850, when he returned home because of his mother's deteriorating health, he had also composed many poems and more than half a dozen plays. For the most part these were comedies conspicuous for their dialogue. Although some were successfully staged, Turgenev was always extremely critical of them.
His mother's death in November, 1850, made him a rich man. In March, 1852, however, he found himself under arrest: A laudatory article on Nikolai Gogol shortly after Gogol's death, combined with the suspicion created by his sketches as they appeared, caused Turgenev's arrest by the czar's political police. He was confined in jail for a month and then placed under house arrest at Spasskoye for a year and a half. A Sportsman's Sketches, collected in book form in August, 1852, was an immediate and resounding success. The realistic treatment of Russian life, particularly the plight of the peasants, was so influential that it helped bring about the emancipation of the serfs nine years later. Regaining his freedom, Turgenev worked on his first novel during 1855. Published in The Contemporary Review in January and February of 1856, Rudin was the story of a utopian who had eloquence, honesty, faith, and enthusiasm but was not strong enough to achieve real love or political usefulness.
Turgenev dropped his literary work for a time in 1856 to return to Pauline Viardot in France, but her departure with another man left him desolate, and illness completed his...
(The entire page is 1,366 words.)
Owl Eyes subscribers get unlimited access to our expert annotations, analyses, and study guides on your favorite texts. Master the classics for less than $5/month!