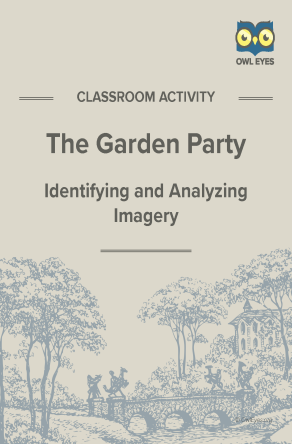 The Garden Party Imagery Activity
8 pages

Subject:

Imagery, Literary Devices, Tone, Lesson Plans and Educational Resources

Common Core Standards:

RL.11-12.1, RL.11-12.4, RL.11-12.5, RL.9-10.1, RL.9-10.4
Additional The Garden Party Resources
Product Description
Katherine Mansfield's 1922 short story "The Garden Party" tells the story of Laura Sheridan, a teenage girl from the New Zealand upper classes who unexpectedly comes of age one beautiful, breezy afternoon. The narrative begins as the Sheridans prepare for a garden party they are hosting on their estate. Laura concerns herself with her dress, the floral decorations, the pastries being served, and the location of the marquee for the band. The details of the garden party are suddenly cast in a frivolous light when news of a death reaches the partygoers. An impoverished man from the row of cheap cottages down the road has died. Wishing to pay her respects, Laura crosses from her world of aristocratic ease into the territory of the working classes and confronts the adults truths of privilege and mortality. Mansfield imbues the story with a great deal of rich and varied imagery, bringing readers into Laura Sheridan's sensory world.
Skills: analysis, drawing inferences from text, close reading, identifying the relationship between words
About This Document
The Owl Eyes Imagery activity gives students an opportunity to practice identifying and analyzing imagery. Imagery within a text creates a sensory experience that can connect readers to a text's setting, atmosphere, or overall aesthetic. Studying imagery will help students understand how narrators or principal characters feel. The main components of this worksheet include the following:
A brief introduction to the text
A handout on types of imagery with examples from classic texts
A step-by-step guide to activity procedure
Selected examples of imagery from the text
In completing this worksheet, students will learn to identify and analyze different kinds of imagery in order to develop close reading skills and identify the effect imagery has on their reading experience.