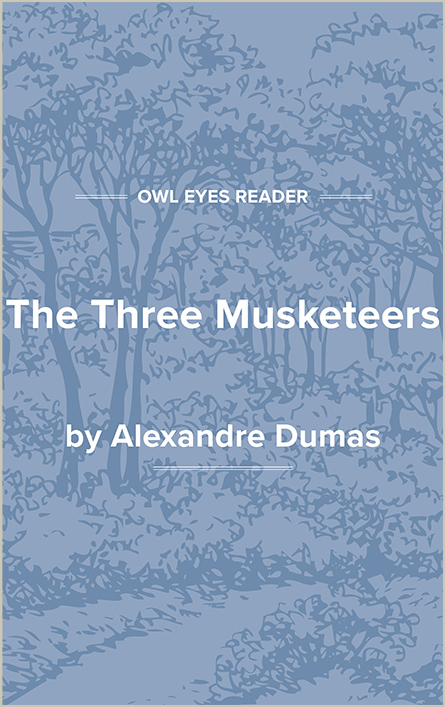 In the spring of 1625, a young Gascon named D'Artagnan, on his way to Paris to join the musketeers, proudly rides up to an inn in Meung. He is mounted on an old pony that his father gave him along with some good advice and a letter of introduction to the captain of the musketeers. In Meung he shows his fighting spirit by fiercely challenging to a duel a stranger who seems to be laughing at his orange horse. Before continuing his journey to Paris he has another encounter with the stranger, identified by a scar on his face, and the stranger's companion, a young and beautiful woman.
Athos, Porthos, and Aramis are the three best blades in the ranks of the musketeers of the guard, in the service of King Louis XIII. D'Artagnan becomes the fourth member of the group within three months of his arrival in Paris. He has earned the love and respect of the other men by challenging each in turn to a duel and then helping them to drive off Cardinal Richelieu's guards, who wish to arrest them for brawling.
D'Artagnan is not made a musketeer at once; he has to serve an apprenticeship as a cadet in a lesser company of guards before being admitted to the musketeer ranks. Athos, Porthos, and Aramis look forward to the day when he will become their true comrade in arms, and the three take turns accompanying him when he is on guard duty. D'Artagnan is curious about his friends but can learn nothing about them. Athos looks like a nobleman. He is reserved, he never mentions women, and it is said that a great treachery has poisoned his life. Porthos is a squire of dames, bragging incessantly of his loves. Aramis, who always dresses in black, insists that he is a musketeer only temporarily, that he is a churchman at heart and soon will enter a monastery and exchange his plumed hat for a monk's cowl.
The three musketeers were earlier rewarded in gold by the timid king for their bravery against the cardinal's guards, but they have since spent all of their money. They are trying to figure a way out of their financial difficulties when Bonancieux, D'Artagnan's landlord, comes to D'Artagnan because he has heard that his tenant is a brave man. Bonancieux says that his wife, Constance, has been abducted; Constance is a seamstress for the royal court, and her devotion to the queen is well known. The landlord suggests that D'Artagnan find and rescue Constance in payment for long-overdue rent and for financial compensation.
When Bonancieux describes Constance's abductor, D'Artagnan realizes that he is the man he had challenged at Meung. On these two scores, the Gascon is willing to help the stricken husband, but he becomes even more eager when he discovers that the purpose of the abduction is to force Constance to tell what she knows of a rumored romance between the queen and the duke of Buckingham.
Constance escapes her captors and returns to her home, where the cardinal's men again try to seize her, only to be attacked and scattered by D'Artagnan, who has overheard the struggle. Later that evening D'Artagnan meets Constance as she is hurrying along alone on the streets at a late hour. He questions her, but she will not say where she is going. He tells her that he loves her, but she gives him no encouragement. Still later that evening he encounters her again as she is leading the duke of Buckingham, in disguise, to the queen.
The queen has sent for Buckingham to beg him to leave the city, where his life is in danger. As they talk she confesses her love for him and gives him as a memento a small rosewood casket containing twelve diamond studs that the king has given her. Buckingham then departs for London. Richelieu, through his spies, learns of the gift, and soon he suggests to the king that he should give a fete and ask the queen to wear her diamond studs. The cardinal then orders Lady de Winter, who is in London, to snip two of the studs from Buckingham's clothing. This deed gives him a chance to strike at the king, the queen,...
(The entire page is 2,167 words.)
Owl Eyes subscribers get unlimited access to our expert annotations, analyses, and study guides on your favorite texts. Master the classics for less than $5/month!