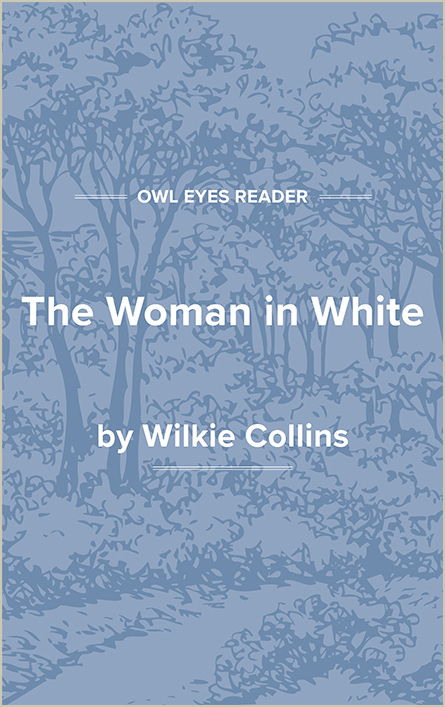 A pencil drawing of the author titled "Wilkie Collins by his father William Collins, R. A." survives; it shows a pretty, if serious, round face. The features beneath the end of the boy's nose are shaded, giving particular prominence to the upper face and forehead. The viewer is at once drawn to the boy's eyes; they are large, probing, mysterious—hardly the eyes of a child. Perhaps the artist-father sought to impart to his elder son some of his own austere, pious nature. William Collins (1788-1847), whose life began on the verge of one great European revolution and ended on the verge of another, was no revolutionary himself, nor was he the bohemian others of his calling imagined themselves. Instead, he was a strict Sabbatarian, an individual who overcame by talent and perseverance the disadvantages of poverty. The novelist's paternal grandfather was an art dealer, a restorer, and a storyteller who lovingly trained and cajoled his son in painting and drawing. William Collins did not begin to taste success until several years after the death of his father in 1812, but gradually commissions and patrons did come, including Sir Robert Peel. Befriended by noted artists such as Sir David Wilkie and Washington Allston, William Collins was at last elected to the Royal Academy in 1820. Two years later, he married Harriet Geddes. The names of both of their sons, born in 1824 and 1828, respectively, honored fellow artists: William Wilkie Collins and Charles Allston Collins.
Little is known of Wilkie Collins's early years, save that they appear to have been relatively tranquil. By 1833, Collins was already enrolled at Maida Hill Academy. In 1836, William Collins elected to take his family to Italy, where they remained until the late summer of 1838. The return to London required taking new lodgings at Regent's Park, and the fourteen-year-old Wilkie Collins was sent to boarding school at Highbury. By the close of 1840, he was presumably finished with school. His father's health began to fail, and the senior Collins made known his wish that Wilkie take holy orders, though the son apparently had no such inclination. The choice became university or commerce. Wilkie Collins chose business, and he became an apprentice to the tea merchants Antrobus and Company in 1841. He performed well there and was able to take a leave in order to accompany his father to Scotland the following summer. While still an apprentice, Collins began to write occasional pieces, and in August, 1843, the Illuminated Magazine published his first signed story, "The Last Stage Coachman." A novel about Polynesia was also written but discarded. In 1844, Collins traveled to Paris with his friend Charles Ward, and he made a second visit in 1845. While William Collins's health began to deteriorate more rapidly, his son was released from his apprenticeship and decided on the study of law. In February, 1847, William Collins died.
Wilkie Collins emulated his father's self-discipline, industry, and especially his love of art and beauty, yet if one judges by the series of self-serving religious zealots who populate Collins's fiction, one must assume that, while he respected his father's artistic sensibilities, he did not admire his pious ardor. Instead, Wilkie Collins seems in most things to have taken the example of his mother, a woman of loving good nature and humor with whom both he and his brother Charles remained close until her death. Nevertheless, William Collins near the end of his life had asked Wilkie to write his biography, providing the opportunity for the young man's first published book, Memoirs of the Life of William Collins, R. A ., published in 1848 in two volumes. While the narrator tends toward self-effacement and burdens his readers with minute detail, the work is nevertheless a formidable accomplishment. His research in preparing the book led Collins into correspondence with the American writer Richard Henry Dana, Jr., and with a circle of...
(The entire page is 2,911 words.)
Owl Eyes subscribers get unlimited access to our expert annotations, analyses, and study guides on your favorite texts. Master the classics for less than $5/month!