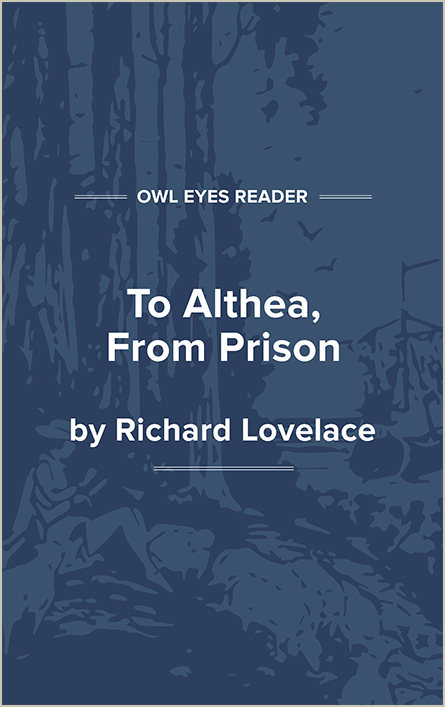 Richard Lovelace Biography
In both his art and life Richard Lovelace played the role of the perfect courtier grandly. During the Parliamentary Wars both he and his family served King Charles I. A favorite of Queen Henrietta, Lovelace learned all the courtly graces, and in his poetry, as much as in his dress, he followed the elegant fashions of the time.
Of a noble family, Lovelace took his honorary degree from Oxford University at age eighteen before he went to the court in London. He fought as a cavalier for the king during the Bishop's Wars of 1639 and 1640. Having then petitioned in Commons for the king, Lovelace was imprisoned in 1642. While in prison he wrote his famous lyric "To Althea, from Prison." He was soon released but was required to remain in London for the duration of the Parliamentary Wars and was prohibited from taking any action in favor of the royalist cause.
After the defeat of the king it is believed that Lovelace went to France and was wounded at the siege of Dunkerque in 1646, returning to England in 1648. Imprisoned again, this time for a period of ten months, he collected and published a volume of his poems, Lucasta: Epodes, Odes, Sonnets, Songs, &c. to Which Is Added Aramantha, a Pastorall in 1649. Having spent his fortune in the king's cause, he lived the rest of his life dependent on the generosity of his friends. After his death, his brother Dudley collected his literary remains and published them in Lucasta: Posthume Poems of Richard Lovelace, Esq. Apart from a few excellent lyrics, Lovelace's poetry has the extravagance of that of John Donne without his wit or synthesizing powers. While his small body of poetic works may appear contrived to the modern reader, Lovelace's poetry is well made, carefully controlled, metrically perfect, and rhetorical in the best cavalier manner.