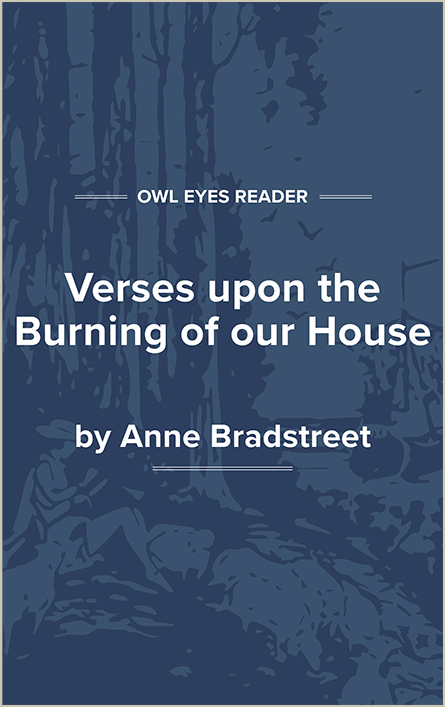 Anne Bradstreet Biography
Anne Bradstreet began life as the privileged daughter of a cultured and wealthy father, Thomas Dudley, a "judicious dissenter" who had married into the British aristocracy. Between the ages of seven and eighteen she lived in the household of Thomas Clinton, the third earl of Lincoln, whose estate her father managed. In this environment she met her future husband, Simon Bradstreet, who was her father's assistant and eleven years her senior. Both left the estate for separate destinations in 1624, but they were united in marriage four years later. In 1630 Anne and Simon Bradstreet, together with her parents and other Puritans, sailed for Massachusetts Bay Colony, where she lived for brief periods in Salem, Charlestown, and Cambridge. After a somewhat longer sojourn in Ipswich, she and her husband settled permanently in Andover. There she composed her verse, which combines literary dexterity, religious contemplation, and personal feeling.
In 1647 her brother-in-law, the Reverend John Woodbridge, sailed for England, taking with him copies of her poems, which he published under the flamboyant title of his own devising, in which he ranked Bradstreet as the equal of the nine allegorical muses in Greek mythology. The work consists mainly of four long poems, portraying the physical and psychological characteristics of humankind and summarizing the history of the four great empires of the ancient world. Bradstreet's major sources were a French biblical epic, La Semaine (1578) by the fervent Calvinist Guillaume Du Bartas, translated in verse by Joshua Sylvester as Bartas: His Deuine Weekes and Works (1605), and a prose History of the World (1614) by Sir Walter Raleigh. Although her themes and literary devices such as conceits, hyperboles, and artificial imagery may be considered as typical of Renaissance style in general, the patterned organization and structural unity of the work derives directly from Du Bartas.
Although Bradstreet attained her original celebrity through her adherence to Renaissance poetic conventions, later criticism focused on a number of personal poems added to the second and posthumous edition of her work. Hardly equal in length to one-eighth of the 1650 volume, the later poems completely lack the "wit and learning" of the earlier ones. Instead they comprise expressions of personal feelings and domestic relations in a simple lyric style devoid of anything more artificial than rhyme and meter. Of the eighteen new poems, six belong to one of Bradstreet's favorite genres, the epitaph or memorial. These represent close links, however, to the original edition, which included memorial poems addressed to Sir Philip Sidney, Du Bartas, and Queen Elizabeth as well as versification of the biblical lamentation of David for Saul and Jonathan. Four of the later poems are addressed to her husband, and two to her father, and three concern her own bodily condition. A dichotomy in her own religious attitudes about which critics have debated is presented in a dialogue titled "The Flesh and the Spirit." Bradstreet's masterpiece is now generally considered to be "Contemplations," a group of thirty-four stanzas in rime royal (ababcc ) and a concluding stanza in couplets. Here she contemplates the setting sun on an autumn evening as her thoughts shift to the creator of the universe and human beings' pain in this world. She associates the seasons with legends of Old Testament heroes and contrasts their longevity with the short life...
(The entire page is 838 words.)
Owl Eyes subscribers get unlimited access to our expert annotations, analyses, and study guides on your favorite texts. Master the classics for less than $5/month!