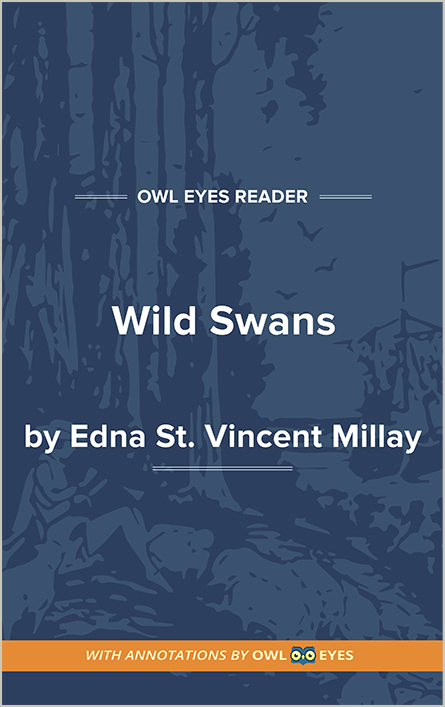 Annotated Full Text

Literary Period:

Modern

Publication Date:

1921

Flesch-Kincaid Level:

4

Approx. Reading Time:

0 minutes
In "Wild Swans," Edna St. Vincent Millay explores the role of the poetic imagination in offering transcendence and meaning to an otherwise dreary existence. Seeing a wedge of swans flying overhead, the narrator is drawn into a state of reflection. She asks herself, "what did I see I had not seen before?" She chooses to engage with the question and looks at the swans with fresh eyes. The beauty of the swans reminds her of the narrow, ordinary nature of her life, of her "tiresome heart." When the narrator looks again at the bevy of swans, they take on a greater level of realism and definition. They are given bodies and voices, "trailing their legs and crying." The poem charts the process of poetic vision: the narrator halts, steps aside from the typical cycles of her life, and observes the world for what it truly is.
Annotated Full Text

Literary Period:

Modern

Publication Date:

1921

Flesch-Kincaid Level:

4

Approx. Reading Time:

0 minutes