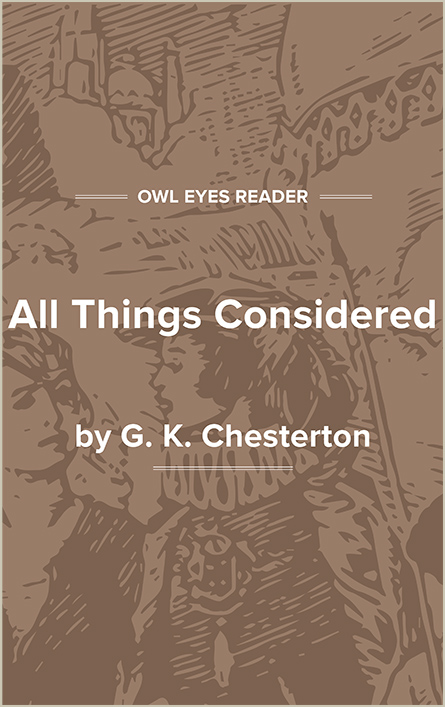 G. K. Chesterton Biography
Gilbert Keith Chesterton was born in London on May 29, 1874, to a middle-class family. His father, Edward, was an estate agent who liked literature and art, and his mother, Marie, was the daughter of a Wesleyan lay preacher. Both parents were Unitarians, but they baptized their son in the Anglican Church. Chesterton attended the Colet Court preparatory school and then, in 1887, went to St. Paul's School. His academic record was not good, but he finally began to demonstrate literary capability as a member of the Junior Debating Club, which he and some of his fellow students established during the summer of 1890. Two years later he won the Milton Prize for his poem "St. Francis Xavier."
From 1892 to 1895, Chesterton attended the Slade School to study art and took some courses in French, English, and Latin at University College, London. He did not do well, however, except in his English courses, and he left the Slade School in 1895 without taking a degree. For the next six years he worked in publishing houses, reading authors' manuscripts, and at night he did his own writing. In 1900 his first two books appeared, Greybeards at Play: Literature and Art for Old Gentlemen—Rhymes and Sketches and The Wild Knight, and Other Poems, both works of poetry. The next year he began to submit articles regularly to the Speaker and the Daily News and thus started a career as a journalist that was to last until his death. He became known for his opposition to the Boer War and his support of small nations.
In 1901 Chesterton married Frances Blogg after a courtship of five years. The couple lived first in London, and then in 1909 they moved to Beaconsfield, forty miles outside London. They had no offspring, but they enjoyed the company of the children of their friends, relatives, and neighbors.
In 1904 Chesterton's first novel, The Napoleon of Notting Hill, was published, and by 1914 he had written five more novels and numerous other works, including biographies (Robert Browning
(The entire page is 496 words.)
Owl Eyes subscribers get unlimited access to our expert annotations, analyses, and study guides on your favorite texts. Master the classics for less than $5/month!