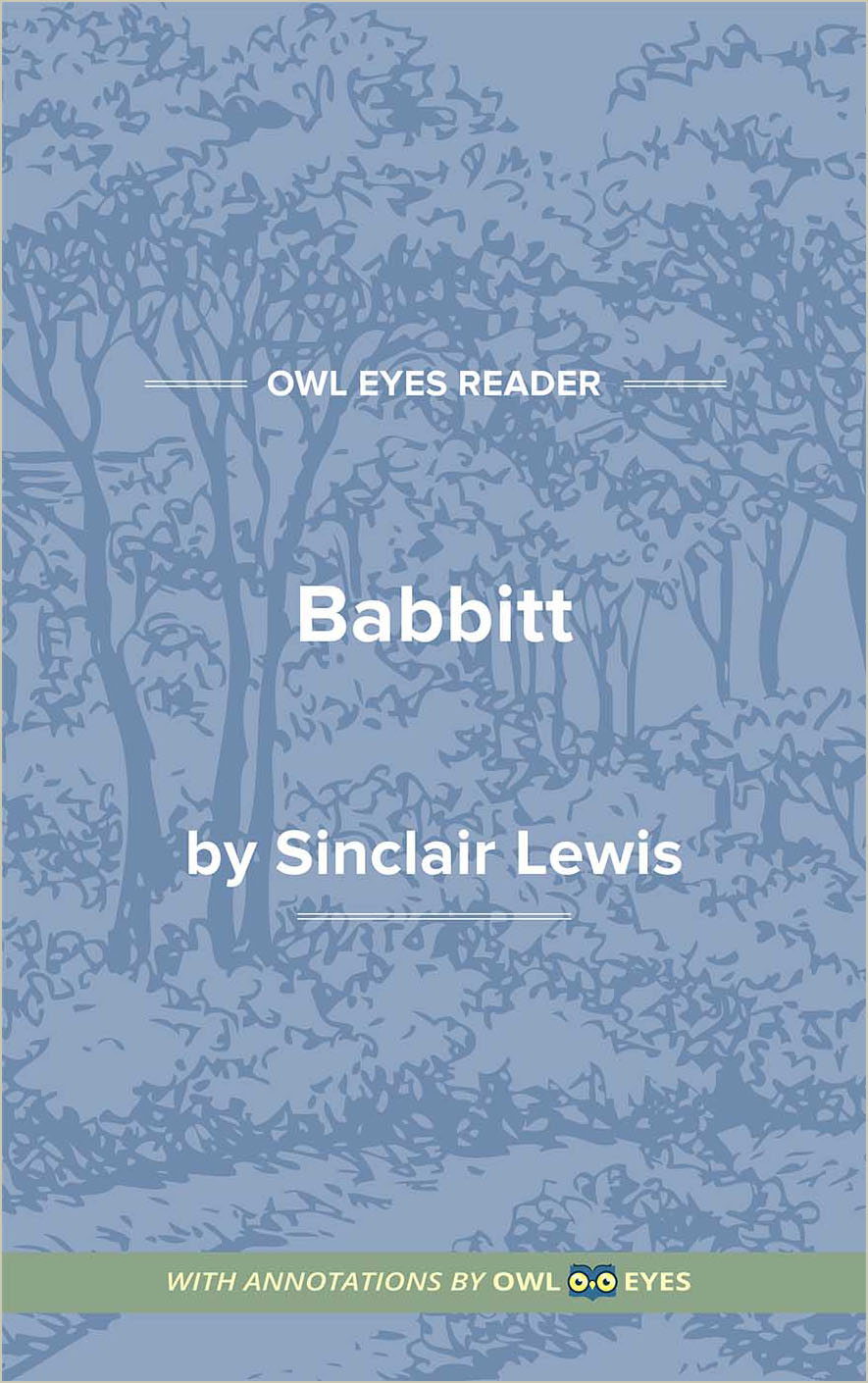 Conformity to Expected Social Norms: Sinclair Lewis explores how the pressure of conformity pervades all aspects of the middle-class experience and subverts notions that certain groups are able to break free from this pressure. For Babbit, this life includes a successful career and a stable marriage. To achieve high social status, Babbitt is expected to uphold conservative values. Babbitt finds this world stifling, finding temporary through an affair with Tanis Judique, but he soon discovers that Tanis and her friends also operate under the presumption of conformity to accepted social behaviors. At the narrative's conclusion, Babbitt's son Ted elopes with Eunice Littlefield. Instead of scolding his son, Babbitt encourages Ted to leave university to pursue his passion for mechanics and resist conforming to middle-class pressures.
Commercialization of Religion: Although Babbitt has references to religion, there are few instances of "real" or "true" believers in the novel. Babbitt professes that he has no particular religious beliefs and has never read the Bible—despite eagerly recruiting for the Church Sunday School. Both Babbitt and William Washington Eathorne use the Church Sunday School for economic gain, while Reverend John Jennison Drew uses his position to preach conservative values against the labor movement in Zenith. Ex-prize fighter turned evangelist Mike Monday preaches religion in a remarkably un-religious speech that ultimately functions as a parody of religious oratory. Lewis's biting satire highlights the hypocrisy and commercialization of religion and a marked absence of true religious piety in 1920s United States.
Emptiness of Consumerism: Babbitt and his peers are largely motivated by the acquisition of material goods. In Zenith, modern objects at the forefront of technology serve as status symbols of the owner's own inherent value. Babbitt is very concerned with maintaining a household that displays all the modern fittings and trimmings and owning a sleek car that makes him feel smart and sophisticated. While these possessions provide him temporary satisfaction, it is ultimately empty and fleeting.
The Loss of the American Dream: Many characters throughout feel a sense of dissatisfaction with their lives, which is ultimately attributed to the loss or abandonment of their dreams and ideals. Babbitt's friend Paul Riesling dreamed of traveling to Europe to become a famous violinist, but he abandoned this dream once caught up in the middle-class aspirations of Zenith. Riesling feels a great sense of distress when confronted with reminders of his unfulfilled dream, such as the view of an ocean liner. Similarly, jingle-writer Chum Frink speaks drunkenly one evening of his youthful yearning to become a great poet and the deep remorse he feels for never having achieved his dream. Lewis's entire narrative details the greater loss of The American Dream, as his characters realize that true happiness cannot be achieved through social status or material possessions.
Themes Examples in Babbitt: