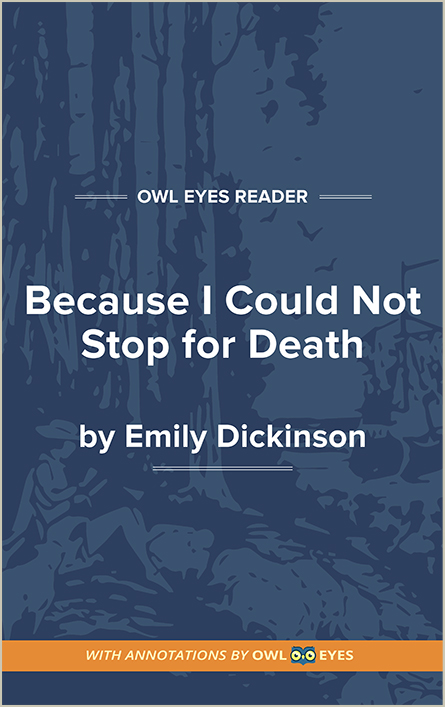 Themes

in

Because I Could Not Stop for Death
Confronting Mortality: The central theme of the poem is the personal confrontation with mortality. Dickinson handles this challenging theme by presenting it through a series of images, metaphors, and events. The speaker is invited to take a ride in a horse-drawn carriage by the gentlemanly "Death." Much of the power of the poem comes from its understated quality. Dickinson does not explain the situation, but merely offers it to us in a matter-of-fact manner. There is an attitude of calm acceptance that seems proper in the light of death, a phenomenon that has always eluded human rationalization.
Contemplating Eternity: One of the themes Dickinson presents to us is that of one's destination after death. As the speaker's ride in Death's carriage progresses, two destinations are referenced. The first is the speaker's own grave in the earth—"a swelling of the ground." The second is the direction of the horses' heads: "eternity." The idea of eternity is presaged by the mention of the carriage's third passenger: "Immortality." As with the topic of death, Dickinson does not explain or literalize the ideas of eternity or immortality. Rather, she entertains them within the bounds of the poem, presenting them for us to ponder as well.
Themes Examples in Because I Could Not Stop for Death: