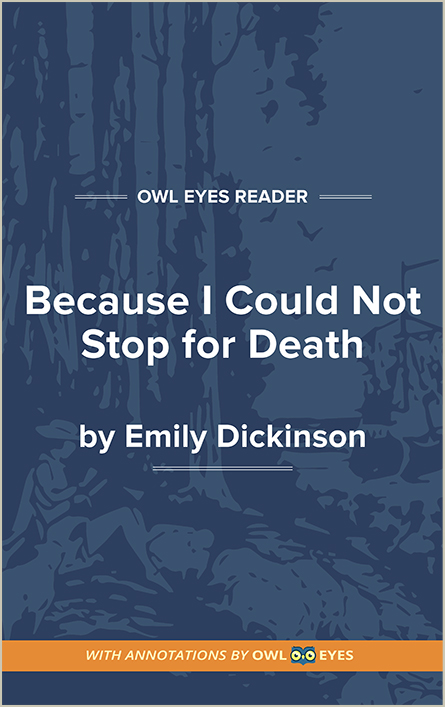 Literary Devices

in

Because I Could Not Stop for Death
Personification of Death: One of the central poetic devices Dickinson uses in the poem is the personification of death. Like many poets before and since, Dickinson writes of death by bringing it down from the realm of abstraction into something more concrete. In "Because I could not stop for Death," Dickinson makes death into "Death," a gentleman riding in a horse-drawn carriage who picks up the speaker for a ride through the country. Thus death becomes a more malleable subject for the poet.
Form, Rhyme, and Meter: Dickinson wrote "Because I could not stop for Death" in what is called "common meter," a poetic form defined by alternating four-beat and three-beat lines. The lines are assembled into quatrains—four line stanzas—with a loose ABAB rhyme scheme. This form is typically used in nursery rhymes, giving the poem a light sing-song tone that lends levity to the otherwise heavy subject matter.
The Landscape of Life: One of the sustained metaphors—or conceits—in the poem is that of the landscape outside the carriage as life itself in its various stages of development. The sequential scenes of playing children, fields of grain, and the setting sun symbolize, childhood, adulthood, and elderhood, respectively.
Literary Devices Examples in Because I Could Not Stop for Death: