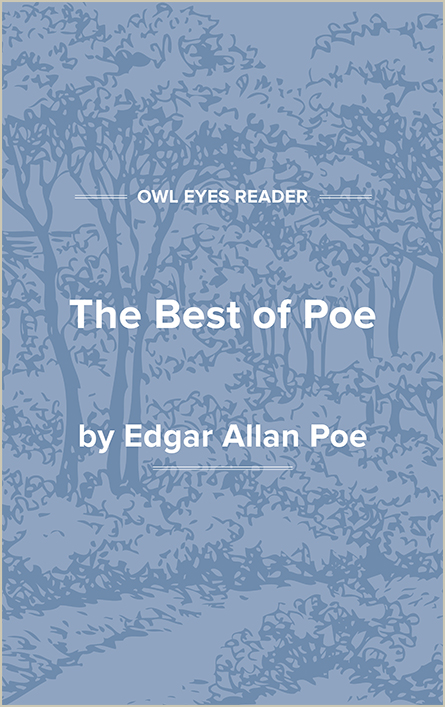 Edgar Allan Poe Biography
Edgar Allan Poe was born on January 19, 1809, in Boston, Massachusetts. His parents, David Poe, Jr., and Elizabeth Arnold Poe, were struggling actors who died while Poe was a small child. The young Edgar was taken in by a wealthy Scottish tobacco exporter, John Allan, from whom he took his middle name.
For most of his early life, Poe lived in Richmond, Virginia, with the exception of a five-year period between 1815 and 1820 when the Allan family lived in England. Back in the United States, Poe attended an academy until 1826, when he entered the University of Virginia. He withdrew less than a year later because of various debts, many of them from gambling, which his foster father refused to help him pay. After quarreling with Allan about these debts, Poe left for Boston in the spring of 1827, where he enlisted in the Army under the name Edgar A. Perry.
In the summer of 1827, Poe's first book, Tamerlane, and Other Poems, signed anonymously as "A Bostonian," appeared, but neither the reading public nor the critics paid much attention to it. In January, 1829, Poe was promoted to the rank of sergeant major and was honorably discharged at his own request three months later. Near the end of 1829, Poe's second book, Al Aaraaf, Tamerlane, and Minor Poems, was published and was well received by the critics.
Shortly thereafter, Poe entered West Point Academy. After less than a year, however, either because he tired of the academy or because John Allan refused to pay his bills any longer, Poe got himself discharged from West Point by purposely neglecting his military duties. He then went to New York, where, with the help of some money raised by his West Point friends, he published Poems in 1831. After moving to Baltimore, where he lived at the home of his aunt, Mrs. Clemm, and his cousin Virginia, Poe entered five short stories in a contest sponsored by the Philadelphia Saturday Courier. Although he did not win the prize, the newspaper published all five of the pieces. In June, 1833, he entered another contest sponsored by the Baltimore Saturday Visiter and this time won the prize of fifty dollars for his story "MS. Found in a Bottle."
During the following two years, Poe continued to write stories and to try to get them published. Even with the help of a new and influential friend, lawyer and writer John Pendleton Kennedy, Poe was mostly unsuccessful. His hopes for financial security became even more desperate in 1834 when John Allan died, leaving him out of his will. Kennedy finally succeeded in getting the Southern Literary Messenger to publish several of Poe's stories and to offer Poe the job of editor, a position that he kept from 1835 to 1837. During this time, Poe published stories and poems in the Southern Literary Messenger. It was, however, with his extensive publication of criticism that he began to make his mark in American letters.
In 1836, Poe married his cousin, Virginia Clemm, a decision that, because of her young age and her relationship to Poe, has made him the subject of much adverse criticism and psychological speculation. In 1837, after disagreements with the owner of the Southern Literary Messenger, Poe moved to New York to look for editorial work. Here he completed the writing of The Narrative of Arthur Gordon Pym (1838), his only long fiction, a novella-length metaphysical adventure. Unable to find work in New York, Poe moved to Philadelphia and published his first important story, a Platonic romance titled "Ligeia." In 1839, he joined the editorial staff of Burton's Gentlemen's Magazine, in which he published two of his greatest stories, "The Fall of the House of Usher" and "William Wilson."
In 1840, Poe left the magazine and tried to establish his own literary magazine, which did not meet with success. He did, however, publish a collection of his stories, Tales of the Grotesque and Arabesque (1840). He became an editor of Graham's Magazine , where he published "The Murders in the Rue Morgue," in which...
(The entire page is 1,137 words.)
Owl Eyes subscribers get unlimited access to our expert annotations, analyses, and study guides on your favorite texts. Master the classics for less than $5/month!