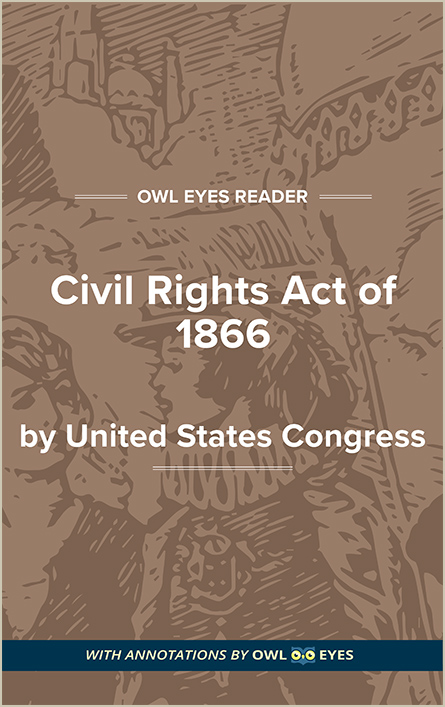 Annotated Full Text

Literary Period:

Reconstruction

Publication Date:

1866

Flesch-Kincaid Level:

21

Approx. Reading Time:

19 minutes
In the immediate aftermath of the Civil War, the United States government was split into two sides. There were the Republicans, those in control of Congress who desired to push for greater social change in the wake of the Union's victory. On the other side of the aisle were the Democrats, led by President Andrew Johnson, conservatives who wished to restore the nation to its original former balance by giving the defeated South a helping hand and generally minimizing the role of the federal government. After the official eradication of slavery with the Emancipation Proclamation in 1863 and the Thirteenth Amendment in 1865, the Republicans envisioned further opportunities for the advancement of civil rights for African Americans. The most progressive group of Republican lawmakers, known as the Radical Republicans, drafted the Civil Rights Act and introduced it in the Senate on January 5, 1866. The purpose of the act was to define—for the first time in American legislative history—the nature of citizenship and to proclaim that all citizens are equally protected by the US government. Because of the context in which the act was written, it contains numerous measures specifically intended to protect African Americans. The act carves out provisions for citizens "of every race and color, without regard to any previous condition of slavery" in order to be completely unambiguous with regards to the treatment of former slaves. On March 27, President Johnson issued a veto on the act, citing its trampling of states' rights and its upscaling of federal power to enforce the rights of African Americans. Ten days later, the Senate overrode Johnson's veto with an avalanche of Republican votes. Three days after that, the House of Representatives followed suit, marking the first Congressional override of a major presidential veto in American history.
Annotated Full Text

Literary Period:

Reconstruction

Publication Date:

1866

Flesch-Kincaid Level:

21

Approx. Reading Time:

19 minutes