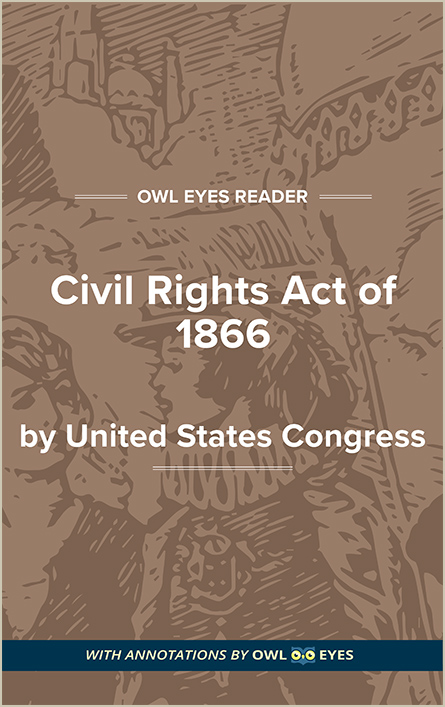 Historical Context

in

Civil Rights Act of 1866
Emancipation and Reconstruction: The backdrop of the 1866 Civil Rights Act was the ambiguous situation of African Americans after the Civil War. In 1863, Lincoln emancipated the slaves through a wartime measure, a move the Union backed up with a decisive victory over the Confederacy two years later. To simply declare the slaves free hardly represented an end to the problems they faced in a racially prejudiced landscape. In the postwar period known as Reconstruction, the South found itself burdened with both a crippled economy and the loss of the unpaid labor force that had previously powered it. When President Andrew Johnson began placing legislative control back into the hands of the Southern states, their governments sought to effectively reinstitute slavery by another name. Thus arrived the "black codes," pernicious laws designed by ex-Confederates to jumpstart the Southern economy by forcing freedmen—former slaves, most of whom found themselves without property or work—back into servitude. President Johnson's vision of Reconstruction was to patch up the immediate problems of the postwar South by looking to the past. The Republicans who ran Congress, however, were looking to the future.
Postwar Progressive Legislation: The Republican Congressional party of the 1860s was one of the most active and progressive legislative bodies in United States history. In the five years immediately following the Civil War, between 1865 to 1870, the Republicans passed the Thirteenth, Fourteenth, and Fifteenth Amendments, the Freedmen's Bureau Bill, the Civil Rights Act, and the four Reconstruction Acts. Altogether, this collection of legislation represents a tremendous degree of social and governmental change. The combined accomplishments of these laws include the eradication of slavery, the granting of full citizenship and protection to African Americans, the establishment of the Freedmen's Bureau to assist former slaves in the inhospitable conditions of the postwar South, the full enfranchisement of African American men, as well as a broad empowerment of the federal government and an attendant diminishment of states' rights. Despite the obstacles in the way of progress, namely a deeply conservative president in the oval office, the Radical Republicans altered the course of American history in less than a decade.
Historical Context Examples in Civil Rights Act of 1866: