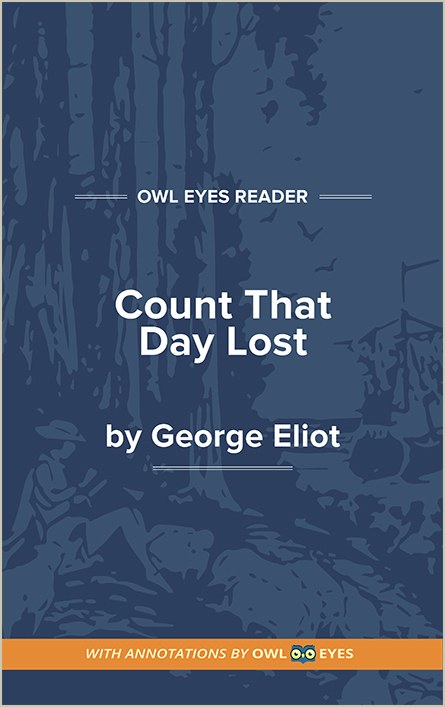 The woman known to countless readers as George Eliot—a name she did not use until she was nearly forty—was born on November 22, 1819, and christened Mary Ann Evans, the third child of Robert Evans and his second wife Christina Pearson. Evans, a man of extraordinary competence and unimpeachable integrity, worked as a general overseer of Arbury Hall, the seven-thousand-acre estate of the Newdigate family in Warwickshire. A shy and homely girl, Eliot excelled as a student in nearby boarding schools. Under the influence of a favorite teacher, Maria Lewis, the strict and conventional adherence to the Church of England that Eliot learned from her parents acquired an overlay of pious Evangelicalism.
After her mother's death and her father's retirement, Eliot and her father moved to a new home outside Coventry. She soon established a close and lasting friendship with Charles and Cara Bray and Cara's sister Sara Hennell. Her conversations with the Brays, who were Unitarians and whose views of religion were more intellectual than those with which Eliot had been acquainted, accelerated the process of religious questioning that she had already experienced. At Bray's suggestion, she began to translate Das Leben Jesu, a key work of the German theologian David Friedrich Strauss. Strauss, by applying the methods of scientific research and criticism to the Bible, questioned the divinity of Christ. Eliot's work on this translation, published anonymously in 1846, completed the destruction of her religious orthodoxy.
Following the death of her father in 1849 and a brief stay in Switzerland, Eliot moved to London, where she began to write for the Westminster Review. The fact that, while in Switzerland, she began to spell her name Marian suggests her awareness of a new and different life ahead of her.
Although the Westminster Review was nominally edited by John Chapman—a man with whom Eliot may have been romantically involved—Eliot assumed most of the responsibilities of editorship and was, especially after Chapman bought the periodical in January, 1852, virtual editor. Her work with the Westminster Review placed her near the center of the intellectual life of Victorian England and brought her into contact with many of the prominent thinkers of the time. One of the persons whom Eliot met at this time was George Henry Lewes, who later became her common-law husband. A man of unusual versatility, Lewes had written novels, a blank-verse tragedy, a history of philosophy, and many periodical articles on a variety of subjects. He was, with Thornton Leigh Hunt, coeditor of a weekly newspaper called The Leader.
Lewes, Hunt, and Lewes's wife Agnes subscribed to the notion that passions could not be restricted by social conventions; thus, when Agnes, after bearing Lewes four sons, delivered a fifth son who had been fathered by Hunt, Lewes quietly registered the child as his own. By the time Agnes bore a second child fathered by Hunt, however, Lewes no longer considered her his wife, although he continued to support her and to be on friendly terms with her and Hunt, with whom he continued to work on The Leader. Victorian laws made divorce virtually impossible and prohibitively expensive; the fact that Lewes had accepted Hunt's child as his own precluded his citing adultery as possible grounds.
Under the circumstances, Eliot and Lewes had the choice of living together in a common-law marriage or not living together at all. They chose the former, and on July 20, 1854, traveled to Germany as husband and wife. Eliot wrote to her friends to explain her new status and to ask that henceforth they address her as Marian Lewes.
Although the couple had no children, their relationship was in many respects a model Victorian marriage. They lived happily together until Lewes's death in 1878; with their writing, they supported not only themselves but also Lewes's four sons and Agnes and her children by Hunt. Lewes's sons appeared to regard Eliot with great...
(The entire page is 1,011 words.)
Owl Eyes subscribers get unlimited access to our expert annotations, analyses, and study guides on your favorite texts. Master the classics for less than $5/month!