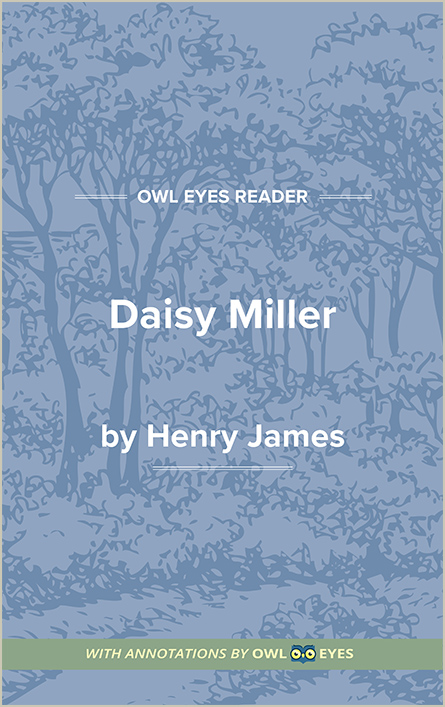 Daisy Miller was James's first commercial success; it made him immediately famous as the chronicler of "the international theme" and remains, after The Turn of the Screw (1898), probably his most widely known work. A characteristic example of James's early fiction, which is indebted to the allegorical tradition of Nathaniel Hawthorne, the novella establishes a recurrent theme that would be reworked with increasing complexity as James's career developed.
Frederick Winterbourne, an expatriate American resident for a number of years in Geneva, is on an excursion to Vevey, Switzerland, to visit an aunt. He encounters the Miller family, wealthy Americans touring Europe. While Mr. Miller has remained home in Schenectady to attend to business, Mrs. Miller, her son Randolph, and her daughter Daisy are sampling the pleasures of European tourist attractions.
Winterbourne is immediately attracted to the young, beautiful, and flirtatious Daisy, who innocently ignores the social conventions governing the conduct of young women in Europe. Daisy scandalizes Winterbourne's aunt, Mrs. Costello, but charms and intrigues Winterbourne himself. Daisy extorts from him a promise to visit her in Rome in the coming winter, and the tale turns to their relations there.
In the intervening months, Daisy has taken up with a handsome Italian named Giovanelli, with whom she rendezvouses in the evenings—against the advice of both her mother and the resident American hostess, Mrs. Walker. They warn her about the insalubrious Roman air, and it is clear that, for Mrs. Walker at least, the impropriety of meeting handsome men, unaccompanied, is the more pressing danger. On one evening, Winterbourne accompanies Daisy, much to his consternation, for he is both attracted to and unable to comprehend her. He remarks:It was impossible to regard her as a perfectly well-conducted young lady; she was wanting in a certain indispensable delicacy. It would therefore simplify matters greatly to be able to treat her as the object of one of those sentiments which are called by romancers "lawless passion." . . . But Daisy, on this occasion, continued to present herself as an inscrutable combination of audacity and innocence.
As Winterbourne attempts vainly to warn Daisy that she is becoming the talk of the American colony, the young, headstrong woman continues to ignore him and all the proprieties. The climax of...
(The entire page is 578 words.)
Owl Eyes subscribers get unlimited access to our expert annotations, analyses, and study guides on your favorite texts. Master the classics for less than $5/month!