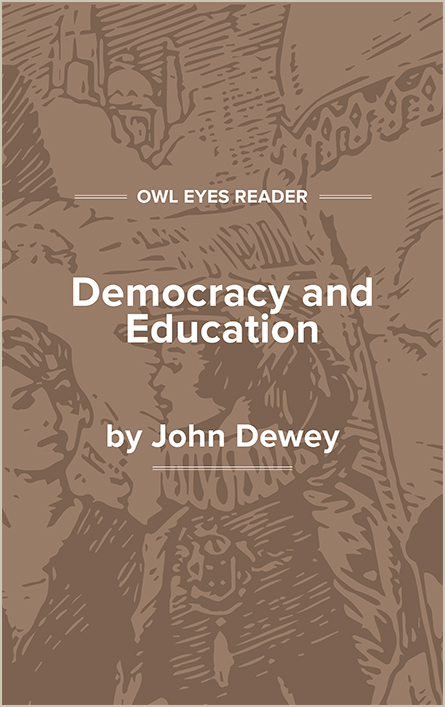 Article abstract: Dewey's instrumentalism, his version of William James's pragmatism, applied directly to the industrial problems of the United States and made pragmatism an operative concept in American politics. His contributions to the concept of functionalism earned for him a permanent place in the development of American psychology.
Early Life
John Dewey was born October 20, 1859, in Burlington, Vermont. His mother, née Lucina Artemisia Rich, was twenty years younger than his father, Archibald Dewey, who owned a grocery business in the community. John was the third child in a family of four. Although the Civil War separated the family for six years when Archibald enlisted in the army, by 1866, they had returned to Burlington, where Archibald entered the cigar and tobacco business.
In the years that followed, John Dewey grew up in a middle-class world where native-born Americans, along with the Irish and French Canadians, shaped his early social experiences. Dewey's parents encouraged his wide-ranging reading and his outdoor activities. His mother's evangelical piety, however, influenced Dewey's values well into adulthood. On the whole, his childhood was a pleasant one, and his parents were warm and supportive, although his mother's pietistic worrying about Dewey's behavior upset him.
After a good high school education in the classics, Dewey entered the University of Vermont. In addition to the classical curriculum, he took biology courses and read widely in the literature of the emerging Darwinian controversies over evolution and its social implications. His interests were moving him toward the study of philosophy. What he read and what he had experienced in his young life contributed to the philosophical dualisms such as body-soul, flesh-spirit, and nature-mind, but Dewey wanted a unity of knowledge that overcame such divisions. Dewey was graduated from the University of Vermont in 1879. For the next two years, he taught high school in Oil City, Pennsylvania, a community much in flux from the rapid growth of the oil business.
In Oil City, two events greatly shaped Dewey's life. First, Dewey's religious doubts (or fears) came to seem foolish to him. He felt a oneness with the universe, and although he continued attending church for the next dozen years, he left the religious faith and practice of his parents. Over the course of his long and productive life, after his abandonment of evangelical Christianity, Dewey embraced the absolute Idealism of Georg Wilhelm Friedrich Hegel, with its emphasis on the unity of existence. Later, Dewey accepted humanistic naturalism, with its continuity of nature and humanity drawn from the thought of Charles Sanders Peirce and William James.
In 1882, Dewey entered The Johns Hopkins University for graduate study in philosophy. A serious but sly student, Dewey was quietly exploring the relationship between religion and morals in late nineteenth century American life. At Johns Hopkins, Dewey accepted neo-Hegelianism. Dewey and his whole intellectual generation were seeking something new, something to explain life, a transformation of values. Dewey's fully developed naturalism was, however, in the future. He had begun the transformation of his religious beliefs by ruling out the supernatural but placing its values into the natural. In time, as a philosopher, Dewey placed in the natural world a faith that had previously been assigned to a coming kingdom of God.
In 1884, he joined the department of philosophy at the University of Michigan. During the next four years, he broadened his interests in social affairs and educational matters, and he wrote and published. In 1886, he married Harriet Alice Chipman, a bright and capable woman who encouraged Dewey to pursue his ideas. Wife, mother, and critic, she was a source of encouragement until her death in 1927. Psychology , Dewey's first book, was published in 1887; it combined empirical psychology with German metaphysical Idealism....
(The entire page is 2,379 words.)
Owl Eyes subscribers get unlimited access to our expert annotations, analyses, and study guides on your favorite texts. Master the classics for less than $5/month!