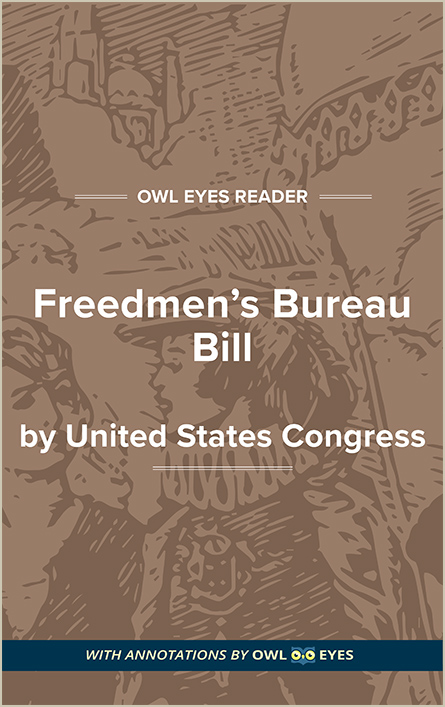 Annotated Full Text

Literary Period:

Reconstruction

Publication Date:

1865

Flesch-Kincaid Level:

20

Approx. Reading Time:

4 minutes
In the wake of the final Emancipation Proclamation, issued on January 1, 1863, the Republicans in Congress worried about the well-being of the newly freed slaves, who now faced an uncertain fate in a hostile Southern landscape. Late in 1863, Massachusetts Representative T.D. Eliot brought forth the idea of a Freedmen's Bureau, a federal organization that would provide aid to freedmen, a term for freed slaves. Throughout 1864, the Freedmen's Bureau bill bounced between the House and the Senate, sparked debate, received critiques and edits, and failed to garner enough congressional support. The bill was controversial, largely because lawmakers could not decide which department ought to house the new Freedmen's Bureau: the War Department, the Treasury, or a new specialized department. After many committee meetings, the War Department was chosen. On March 3, 1865, the five-section bill was passed in the Senate, followed by the House, and finally President Abraham Lincoln. The limitations of the new Freedmen's Bureau soon showed, however. A month later, the war ended, President Lincoln was assassinated, and Andrew Johnson, a Democrat, took office. The original bill only made provisions for the Freedmen's Bureau to exist for one year after the end of the war. By early 1866, Republican lawmakers had to fight again for the existence of the bureau, this time in the face of a president who disapproved of its existence. When Lyman Trumbull introduced a second iteration of the Freedmen's Bureau Bill in 1866, President Johnson argued against it, claiming that it would cost too much, impinge on states' rights, and aggravate the South. By July of 1866, Congress had succeeded in drafting a new Freedmen's Bureau Bill and overriding Johnson's vetoes. The Freedmen's Bureau continued its work through the rest of the 1860s and finally closed in 1872 from a lack of funding.
Annotated Full Text

Literary Period:

Reconstruction

Publication Date:

1865

Flesch-Kincaid Level:

20

Approx. Reading Time:

4 minutes