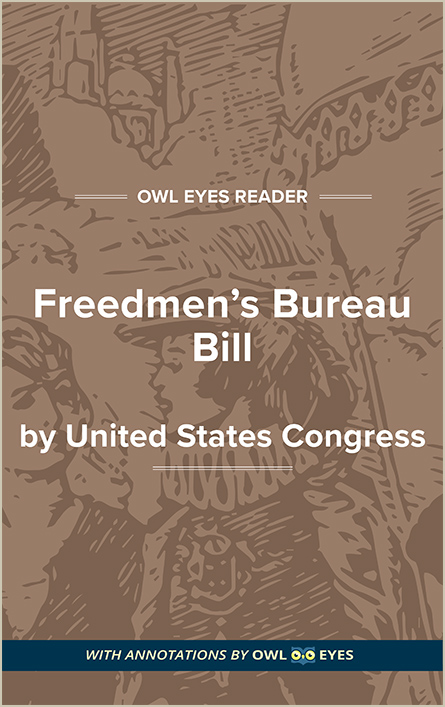 Historical Context

in

Freedmen's Bureau Bill
Slavery and Emancipation: The roots of American slavery reach back to the transatlantic slave trade, which provided African slaves to the burgeoning American colonies. The American opinion of slavery was mixed from the start, with some colonies rejecting the practice and others embracing it as a powerful economic tool. Over the course of the 18th and early 19th centuries, these differing opinions came to be divided along geographic lines, with the North opposing slavery, and the South supporting, and in many ways relying on, the institution. In 1861, the Civil War broke out between the two sides, primarily because of the irreconcilable issue of slavery. On January 1, 1863, President Abraham Lincoln issued the final Emancipation Proclamation, a wartime measure that freed the slaves. While the proclamation was an enormous step toward freedom, Northerners who opposed slavery recognized that there remained much work to do.
The End of the War and Reconstruction: After the issuing of the Emancipation Proclamation, African Americans in the South still faced resistant landowners who wished to keep their cheap laborers. Even more troublingly, they faced a culture steeped in centuries of prejudice and racism. The newly freed African Americans were far from free, or even safe. To address these problems, Radical Republicans in Congress proposed the creation of the Freedmen's Bureau, aimed to provide support to "freedmen," a term for former slaves. The Freedmen's Bureau was launched in March of 1865, shortly before the end of the Civil War and, due to the limits set forth in the original bill, would operate for one year thereafter. Lincoln's successor, Andrew Johnson, denounced the bureau and fought unsuccessfully to veto later attempts to extend its duration. In many ways, these clashes over the Freedmen's Bureau exemplify the central tension in the federal government during the period of Reconstruction, the decade after the war. There were two visions of Reconstruction. The progressive Republicans who controlled Congress sought to further the goals of the Union cause during the war: providing more freedom and equality for African Americans and generally fighting for social change. President Andrew Johnson, a conservative Democrat from the South, viewed Reconstruction as an opportunity to build the South up to its former level of competency and self-sufficiency. The establishment of the Freedmen's Bureau was a clear, if short-lived, victory for the progressive side.
Historical Context Examples in Freedmen's Bureau Bill: