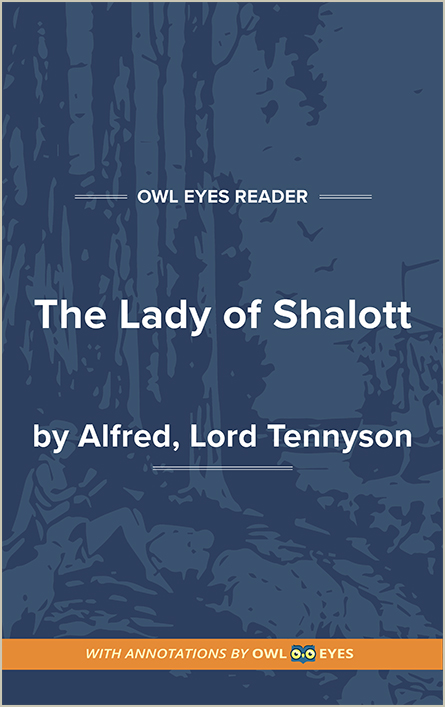 Annotated Full Text

Literary Period:

Victorian

Publication Date:

1842

Flesch-Kincaid Level:

12

Approx. Reading Time:

4 minutes
Alfred, Lord Tennyson (1809-1892) is often regarded as the predominant poet of the Victorian Era (1837-1901). He was celebrated in his time as well, serving as Poet Laureate of Great Britain from 1850 until his death. "The Lady of Shalott" was originally published in his second collection of poetry, titled Poems, in 1832. The volume was critically panned, but it contained early versions of many of Tennyson's best-known works. He released another collection in 1842, also titled Poems, which included revisions of many of the works from the previous collection, including "The Lady of Shalott." The poem engages the Arthurian tradition, which had fascinated Tennyson since childhood. It tells the story of a Lady trapped in a tower and subject to a mysterious curse. She spends her days weaving what she sees in her mirror, her only connection to the world outside. Her life is irrevocably changed when Sir Lancelot stops by the river near her tower and begins to sing. The Lady makes the fateful choice to look out her window, triggering her curse and dying soon after. The poem's romantic symbolism, thematic range, and vivid imagery have inspired many artistic renderings and made it one of Tennyson's seminal works.
Annotated Full Text

Literary Period:

Victorian

Publication Date:

1842

Flesch-Kincaid Level:

12

Approx. Reading Time:

4 minutes