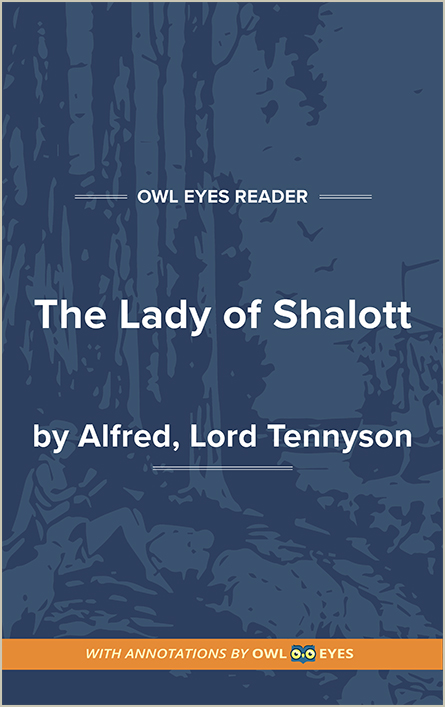 Literary Devices

in

The Lady of Shalott
Poetic Form: "The Lady of Shalott" is commonly interpreted as a ballad. However, that is not strictly its form. Though the poem is indeed narrative in subject, ballads generally consist of four-line stanzas in an ABAB or ABCB rhyme scheme. The form and meter of "The Lady of Shalott," with the uneven four- and then three-line lead-ups to the refrains, are unique to this particular poem. Still, the consistency of the rhyme scheme and the sing-song quality of the meter implicitly allude to the ballad tradition of narrative song, which is commonly referenced both in Arthurian mythology and in "The Lady of Shalott" itself.
Refrains: One of the primary structural features of "The Lady of Shalott" is its use of refrains, or repeated words or phrases. The fifth line of each stanza ends on the word "Camelot," while the ninth line of each stanza ends on the word "Shalott." This repetition serves to establish Camelot and Shalott as opposing focuses in the narrative of the poemy. Both refrains have one exception, with the word "Lancelot" replacing "Camelot" in the ninth stanza and "Shalott" in the thirteenth stanza. Both instances serve to highlight the importance of Lancelot's presence and his disruption of the Lady's life.
Rhyme: "The Lady of Shalott" follows a very strict AAAABCCCB rhyme scheme, which serves to add a lyrical feel to the poem, since rhyming words encourage natural pauses and emphasize structure. The "Camelot" and "Shalott" refrains form the B rhymes in each stanza, which adds emphasis to the repeated words and centralizes their thematic importance through repetition.
Literary Devices Examples in The Lady of Shalott: