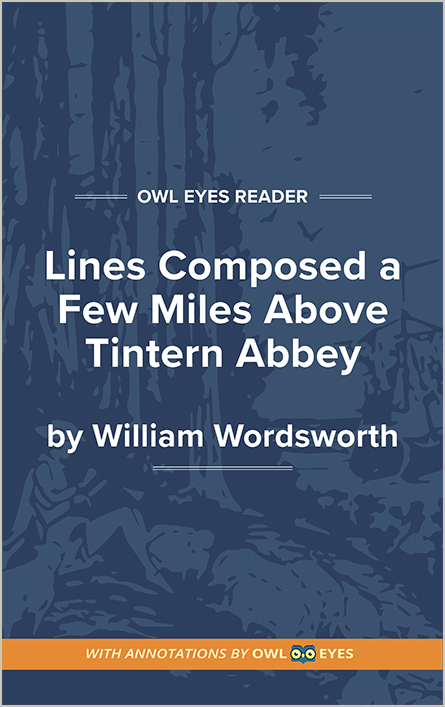 Themes

in

Lines Composed a Few Miles Above Tintern Abbey
Finding Consolation through Memories of Nature: In The Prelude, or Growth of a Poet's Mind, an autobiographical blank verse poem published posthumously in 1850, Wordsworth describes "spots of time," a theme that pervades much of his poetry. With this phrase, Wordsworth defines a spiritual experience someone can recall later during solitary moments in order to renew and revive their spirits. In this poem, Wordsworth recalls standing over Tintern Abbey and looking down into the valley below. The scenes of nature provide profound relief because they allow him to glimpse these numinous "spots of time." These moments provide such lucidity and clarity that, even in times of grief or discomfort, he is able to recall them—like "mansions" in the mind—for restoration and fond reminiscences.
Effects of Maturity on Perspective: On July 13, 1798, Wordsworth returns to the same spot overlooking Tintern Abbey that he visited while on a walking tour five years prior. As he peers down into the abbey from a bird's-eye perspective, he is able to look back on his life with the same heightened perspective. With newfound maturity, he contemplates how growing older has impacted his relationship with nature. As a child and adolescent, he leapt through nature with animalistic passion; now, as an adult, he finds profound spiritual refuge in nature's beauty. Near the end of the poem, he returns again to this theme as he imagines what nature might look like through the youthful "wild eyes" of his walking companion and younger sister, Dorothy. Although Wordsworth does not wish to return to his youth, he is able to live vicariously through the passions of his younger sister. He prays that as Dorothy inevitably grows older and her perspective changes, she may retain memories of this shared experience in order to restore her spirit during challenging times.
Themes Examples in Lines Composed a Few Miles Above Tintern Abbey: