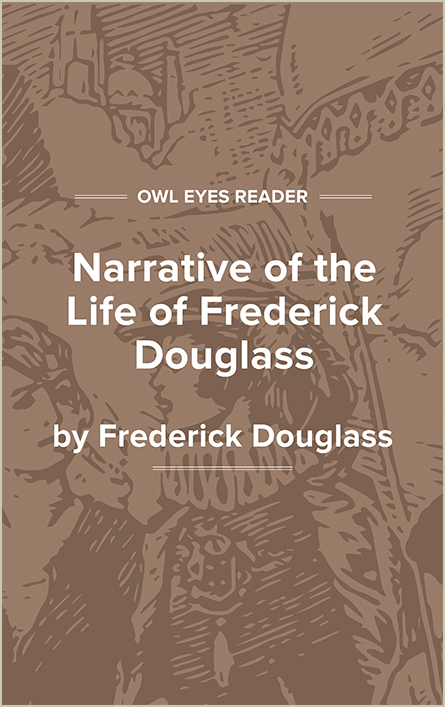 Frederick Douglass Biography
Frederick Douglass, renowned abolitionist, orator, journalist, editor, autobiographer, and statesman, was born Frederick Augustus Washington Bailey in February, 1817, at Holme Hill Farm, near Tuckahoe Creek, in Talbot County, Maryland. Douglass was the son of Harriet Bailey, a slave, and a white man. Douglass was the fourth of at least sixth children born to Bailey. At birth, Douglass and his siblings were designated slaves because the law was that a slave mother's status was transferred to her progeny.
From 1818 to 1823, Douglass was raised on Holme Hill Farm by Betsey Bailey, his grandmother. In 1824, Bailey took her grandson to Colonel Edward Lloyd's plantation, where he resided until he moved to Baltimore in 1826. Douglass lived with Hugh and Sophia Auld and was ordered to take care of their two-year-old son. Sophia Auld gave Douglass his first reading lessons. In 1829, Douglass learned to write while working at a shipyard. In 1831, Douglass purchased a used copy of The Columbia Orator and was inspired by its speeches on liberty.
In 1834, Douglass was hired out to Edward Covey, a Talbot County farmer who was known for his ability to physically and mentally break slaves. Douglass received frequent beatings from Covey until they fought in August, 1834, and Douglass was never beaten by Covey again. After an unsuccessful escape attempt in 1836, Douglass was jailed before he returned to the Auld residence in Baltimore and learned the caulking trade.
In 1838, Douglass became engaged to Anna Murray, a free African American who worked as a domestic. He was required to give most of his shipyard wages to Hugh Auld, yet he managed to save money for his escape. With additional money from Murray and the seaman's protection papers of a retired sailor, Douglass, dressed as a sailor, boarded a train to Wilmington on September 3, then a steamer to Philadelphia, and finally a train to New York. He arrived in New York on September 4 and used Johnson as his surname. Douglass slept on wharves to avoid detection by slave catchers until he met David Ruggles, who assisted fugitive slaves. Douglass stayed at Ruggles's house and was reunited with Murray; they were married on September 15. The couple moved to New Bedford, Massachusetts. They changed their surname to Douglass, and he worked as a general laborer while Anna took in washing and did domestic work. The Douglasses had five children.
At the 1841 convention of the Massachusetts Anti-Slavery Society, Douglass recounted his life as a slave. The audience was so impressed with his remarks that Douglass became a full-time lecturer for the society. He held the position for four years. In 1845, Douglass's first autobiography, Narrative of the Life of Frederick Douglass, an American Slave, Written by Himself, was published. The initial edition of five thousand copies was sold in four months, and more than thirty thousand copies were sold from 1845 to 1850. After the book's publication, Douglass's status as a fugitive slave was in danger; in order to avoid slave catchers, he lectured in England and Ireland for two years. Douglass's freedom was purchased by his British friends in 1846, and in 1847, he returned to the United States.
Douglass and his family moved to Rochester, New York, and with funds from British donors, he founded North Star, a weekly newspaper; it was renamed Frederick Douglass' Paper when it merged with the Liberty Party Paper in 1851. Douglass's newspaper contained editorials that denounced slavery and reported incidents such as the Harpers Ferry raid. In July, 1848, Douglass was the only man who was featured prominently at the Seneca Falls, New York, convention that advocated equal rights for women; this meeting marked the formal start of the women's rights movement in the United States. On July 5, 1852, Douglass delivered his most memorable speech, What to the Slave Is the Fourth of July? In March, 1853, Douglass's novella, The Heroic Slave , based on a mutiny aboard the...
(The entire page is 988 words.)
Owl Eyes subscribers get unlimited access to our expert annotations, analyses, and study guides on your favorite texts. Master the classics for less than $5/month!