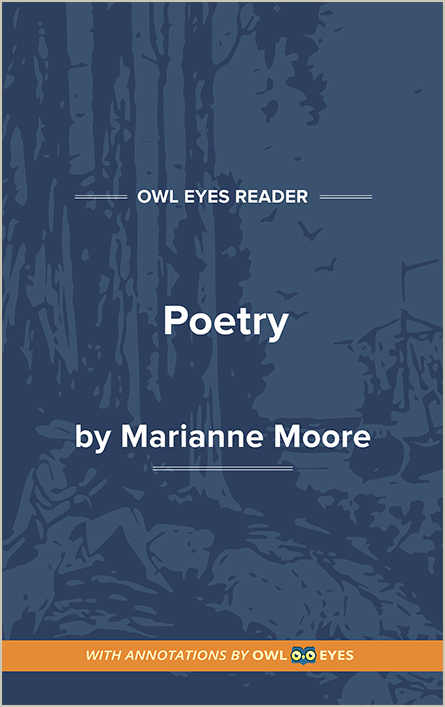 Marianne Craig Moore was born in her maternal grandfather's home in Kirkwood, near St. Louis, Missouri, on November 15, 1887. She never knew her father, an engineer and inventor, because earlier that same year he suffered a nervous breakdown and was committed to an institution. Her mother, Mary Warner Moore, and brother John then moved to Kirkwood to live with Marianne's grandfather, the Reverend John Riddle Warner, a Presbyterian minister.
Moore spent her first seven years in an affectionate, close-knit environment. Her grandfather and her mother encouraged serious reading and a tolerant attitude toward diverse religious beliefs. They both believed in the education of women. From her mother, she learned a verbal decorum and precision, but her mother's influence extended much further. Moore never married, and with the exception of her four years in college, she lived with her mother until the latter's death in 1947.
When Moore's grandfather died in 1894, her mother took the children to Carlisle, Pennsylvania, to live. Her small inheritance was insufficient to support the family, so she took a job as an English teacher at Metzger Institute for Girls, where her daughter began school in 1896. Moore especially remembered an art teacher who encouraged her to draw natural objects. She retained this interest throughout her life, and techniques of the visual arts influenced her poetic style.
Upon graduation in 1905, Moore entered Bryn Mawr College. Her first two years were difficult academically. During this time, she began to write poetry, and in 1907 the Bryn Mawr literary magazine published two poems, "To Come After a Sonnet" and "Under a Patched Sail." It published five more in her last two years of college. In those early poems Moore used run-on lines and a natural colloquial style, techniques that later became characteristic of her poetry. She said that she felt too immature to study English, but courses in comparative literature and art history opened her eyes to new developments in Europe in the early twentieth century. She majored in biology and histology. Later she commented that the precision, the disinterested logic, and the economy of statement in those laboratory studies enhanced her imagination. When she graduated in 1909 with an A.B. degree, she was uncertain as to her direction in life and said she would perhaps continue with her early interest in art and become a painter.
After graduation, Moore returned home and, during the next year, took a secretarial course. From 1911 to 1915 she taught business subjects at the United States Industrial Indian School in Carlisle. During these years, she continued to write, contributing ten poems to the Bryn Mawr alumnae magazine.
In 1915, two of her poems, "To the Soul of Military Progress" and "To a Man Working His Way Through a Crowd," appeared in the April issue of the Egoist, a London literary magazine that was publishing the Irish writer James Joyce. With that, Moore burst upon the literary scene. During that same year, the Egoist published five more of her poems. Her work also appeared in the New York publication Others and in Poetry, a Chicago magazine.
The appearance of her work in these magazines coincided with other important events in her life. In 1916, she moved to New Jersey with her mother to keep house for her brother. During their stay in New Jersey, Moore made frequent trips to New York. In 1918, she and her mother moved to an apartment in Greenwich Village, where they lived until 1929. Moore worked briefly as a secretary and as a private teacher, while continuing to write. She also met artists and other writers such as William Carlos Williams and Wallace Stevens, who gathered at parties and frequented museums and galleries. During those years Moore published fewer poems. One, "The Fish" (1918), signaled a turning point in her development. She used the syllabic verse, stanzaic arrangement, and artist-like description that were later known as her...
(The entire page is 1,205 words.)
Owl Eyes subscribers get unlimited access to our expert annotations, analyses, and study guides on your favorite texts. Master the classics for less than $5/month!