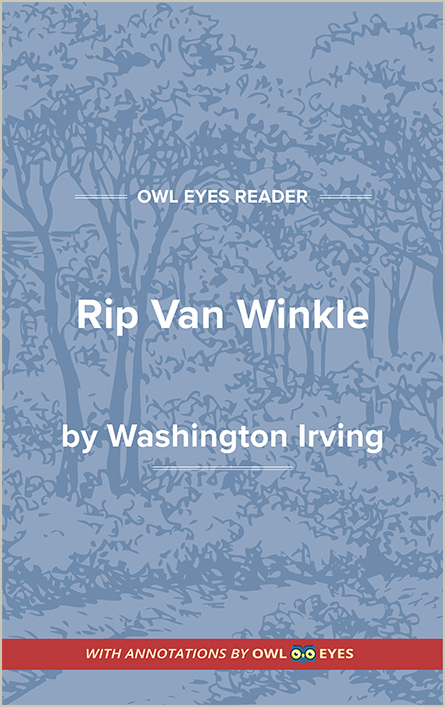 Annotated Full Text

Literary Period:

Romanticism

Publication Date:

1819

Flesch-Kincaid Level:

11

Approx. Reading Time:

36 minutes
Published in The Sketch Book of Geoffrey Crayon, Gent., Irving's humorous short story "Rip Van Winkle" helped launch his literary career and brought him international fame. The titular character, Rip, is a lethargic but good-natured man who is perpetually "henpecked" by his wife. While his domestic affairs are always in disarray, he is ever the helpful neighbor and beloved by all the townspeople. One day, on his usual route to go squirrel hunting on the mountains, Rip encounters a stranger who leads him to a mysterious ravine occupied by unusual beings. Against his better judgement, Rip drinks with the group and falls asleep. Later, when he finally wakes up and makes his way down to his village, his life is forever changed. Through Rip's tale, Irving explores the history of the Catskill Mountains while intermingling it with the traditions of the old world and European myth. By creating his own folklore through Rip's adventure, Irving characterizes the inevitability of change and the consequences of evading one's responsibilities.
Annotated Full Text

Literary Period:

Romanticism

Publication Date:

1819

Flesch-Kincaid Level:

11

Approx. Reading Time:

36 minutes