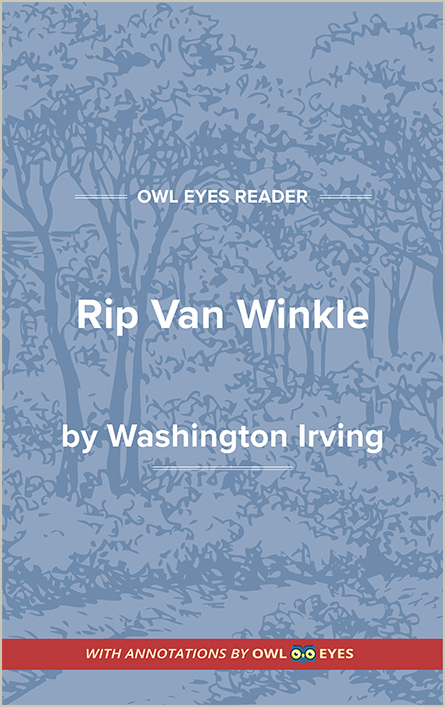 Character Analysis

in

Rip Van Winkle
Rip Van Winkle: Rip is the protagonist of the story. A helpful, well-meaning man, his unwillingness to work on his farm leaves him beset with marital problems. He is frequently interpreted as being lazy; however he is described as being an adept and effective hunter and fisherman, and willing to engage "even in the roughest toil" for the sake of a neighbor. He frequently takes his dog with him out into the mountains to escape the nagging of his wife.
Dame Van Winkle: Rip's wife is described only in the most unflattering terms: she is a "shrew," a "virago," and a "termagant" who is constantly lecturing Rip about his failure to work on his farm and properly provide for their family. She interrupts his meetings with his friends at the inn, and she is regarded with dislike by the other wives of the village, for whom Rip is generally willing to perform chores. Being completely one-dimensional and never given a voice, Dame Van Winkle is less a character and more a symbol of the different types of oppression a person could experience.
The strange men: On one of his mountain excursions, Rip encounters a strange man in outmoded clothing who calls him by name and solicits his help carrying a keg. The man leads Rip into a hollow, where a number of similarly dressed men are playing ninepins. They are silent and serious, and Rip is initially afraid of them. However, he eventually relaxes in their company, enough to drink their liquor and fall asleep. A villager later describes them as the crew of Henry Hudson's 1609 exploratory expedition on the Halve Maen, which sailed up the Hudson River and claimed the surrounding land for the Netherlands.
The villagers: Before Rip's 20-year sleep in the mountains, he and his fellow villagers are of like mind. He is popular with them, due to his good nature and helpfulness, and he has a group of similarly "idle personages" with whom he sits and gossips and discusses outdated news. When Rip returns to the village, he finds it in a relative uproar, with a bustling crowd in place of his calm friends, all eagerly involved in the politics of the day. At first the villagers deride and mock Rip for his appearance and lack of understanding, but they grow to accept him as a village elder and turn to him for stories of the time before the Revolutionary War.
Character Analysis Examples in Rip Van Winkle: