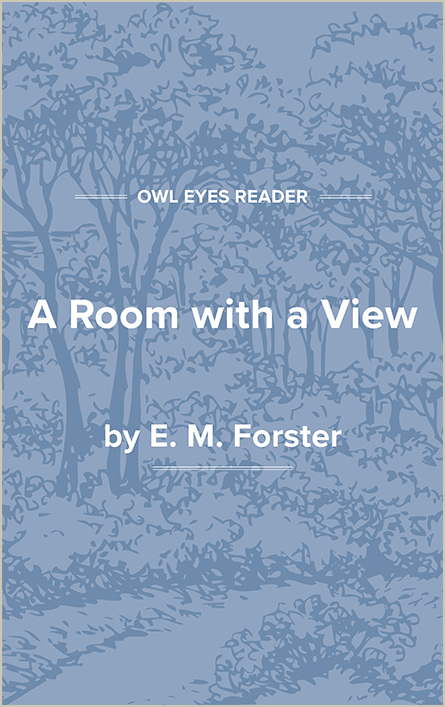 Lucy Honeychurch and Charlotte Bartlett are disappointed by the Pension Bertolini, where they are staying in Florence, and by the fact that their rooms have no view. They are embarrassed at dinner at the pension when Mr. Emerson offers for himself and his son to exchange rooms with the two women, as their rooms have a view. Lucy and Charlotte's unhappiness decreases when the Reverend Arthur Beebe, whom they had known previously, and who has been appointed rector of Lucy's home parish, joins them at dinner. After dinner, he manages to convince Charlotte that the exchange of rooms will not put the women under any obligation to the Emersons. The change, although effected, merely confirms Charlotte's opinion that the Emersons are ill-bred.
At Santa Croce Church, Lucy meets the Emersons, who guide her to the Giotto frescoes that she has come to see. She finds that she is more at ease with Mr. Emerson than she had expected to be, although she is confused by his rejection of artistic and religious cant and his concern about his son.
Late one afternoon, Lucy declares that she is going for a walk alone. She buys some photographs of paintings that she has seen and then walks through the Piazza Signoria. As she does so, she passes two men who are arguing over a debt. One stabs the other, and the stricken man, bleeding from the mouth, dies at her feet. At that moment, she sees George Emerson watching from across the square. As he reaches her side, she faints. After she has recovered, she sends him to get her photographs, which she had dropped. Disturbed because they are covered with blood, he tosses them into the Arno on the way home. When Lucy asks why he has thrown the pictures away, he is forced to tell her. He feels that something very significant has happened to him in the piazza. Lucy and George stop near the pension, and Lucy leans beside him over a parapet and asks him to tell no one that he had been there. Perturbed by their enforced intimacy, she is puzzled and amazed when George says that the murder has made him want to live.
In a large party, the visitors at the pension, together with a resident English chaplain, drive toward Fiesole. Lucy, excluded from Miss Lavish's conversation with Charlotte, asks one of the drivers to direct her to the clergyman. Instead, he leads her to George. Lucy finds at the end of a path a terrace covered with violets. While she stands there, radiant with joy at the beauty of the place, George steps forward and kisses her. Charlotte, whom neither Lucy nor George had seen at first, calls to her cousin to return to the group.
Charlotte tells Lucy that George is a cad and that obviously he is accustomed to stealing kisses. She takes advantage of Lucy's need for sympathy to indicate that George's way of life, as she sees it, is merely brutal. In the morning, Lucy and Charlotte leave the pension, taking the train for Rome.
Back at her home in Surrey, England, Lucy becomes engaged to Cecil Vyse, whom she had visited in Rome. When Mr. Beebe comes to the house for tea, he is perturbed by the news of the engagement. Returning from a party with Lucy and Mrs. Honeychurch, Cecil notices a pair of ugly villas that have been put up by a local builder. When the village residents become alarmed as they consider what type of person might rent the villas, they are assured that Sir Harry Otway has bought them and intends to lease them only to suitable tenants. Lucy suggests that the sisters Miss Catherine Alan and Miss Teresa Alan, whom she met in Florence, would be such tenants. After seeing the villas, Cecil and Lucy walk on through the woods. By a pond where Lucy had bathed as a child, Cecil, for the first time, asks if he might kiss her. Their embrace is not successful and only reminds Lucy of the Emersons, whom she then mentions to Cecil.
Shortly before the Misses Alans's occupancy has been arranged, Cecil meets the Emersons in London and suggests that they take one of the villas. Not connecting the...
(The entire page is 1,252 words.)
Owl Eyes subscribers get unlimited access to our expert annotations, analyses, and study guides on your favorite texts. Master the classics for less than $5/month!