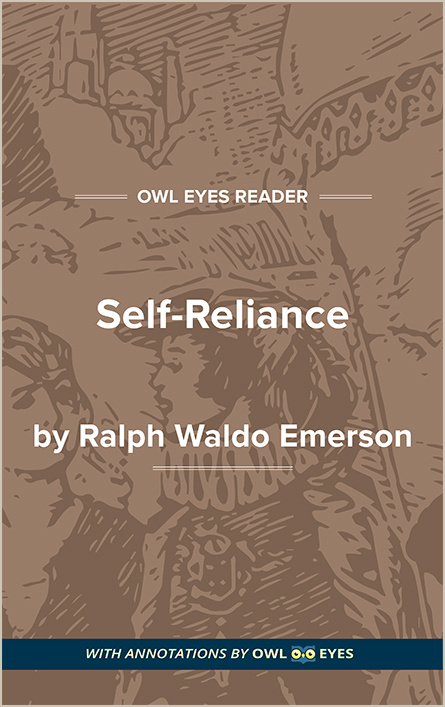 Ralph Waldo Emerson Biography
Article abstract: Emerson's invocation to humanity to live in harmony with nature became the impetus for the American Transcendentalist movement, which held that human beings could transcend sensory experience and rejected the Lockean notion that all knowledge comes from and is rooted in the senses.
Early Life
The fourth child of Unitarian minister William Emerson and Ruth Haskins Emerson, Ralph Waldo Emerson was born in Boston, Massachusetts, on May 25, 1803. His father's death in 1811 left the family poor, and his mother had to maintain a boardinghouse to support the family of six young children.
Despite this poverty, Emerson's education was not neglected. He attended the prestigious Boston Latin School (1812-1817) and in 1821 was graduated from Harvard. Even when he was an undergraduate, his interest in philosophy and writing was evident. In 1820, he won second prize in the Bowdoin competition for his essay "The Character of Socrates," and the following year he won the prize again with "The Present State of Ethical Philosophy." In these pieces, he demonstrated his preference for the present over the past, praising the modern Scottish Common Sense philosophers more highly than Aristotle and Socrates.
This preference derived largely from his belief that the modern philosophers offered more guidance in how to live. Despite the mysticism that informs much of Emerson's writing, he remained concerned with daily life. Thus, his purpose in Representative Men was to draw from the lives of great men some lessons for everyday behavior, and in the 1850's, he gave a series of lectures collected under the title The Conduct of Life.
After graduation from Harvard, Emerson taught school for his brother William before entering Harvard Divinity School in 1825. In 1826, he delivered his first sermon in Waltham, Massachusetts; typically, it dealt with the conduct of life. Emerson warned that because prayers are always answered, people must be careful to pray for the right things. One sees here another strain that runs through Emerson's writings, the optimistic view that one gets what one seeks.
Three years later, in 1829, Emerson was ordained as minister of Boston's Second Church, once the Puritan bastion of Increase and Cotton Mather. In the course of his maiden sermon there, he spoke of the spiritual value of the commonplace. He reminded his audience that parables explain divine truths through homey allusions and noted that if Jesus were to address a nineteenth century congregation, he "would appeal to those arts and objects by which we are surrounded; to the printing-press and the loom, to the phenomena of steam and of gas." Again one finds this love of the commonplace as a persistent theme throughout his work. As he states in Nature, "The meal in the firkin; the milk in the pan; the ballad in the street; the news of the boat" all embody universal truths.
In the same year that Emerson became minister of the Second Church, he married Ellen Louisa Tucker. Her death from tuberculosis in 1831 triggered an emotional and psychological crisis in Emerson, already troubled by elements of Unitarianism. In October, 1832, he resigned his ministry, claiming that he could not accept the church's view of communion, and in December embarked for a year in Europe. There he met a number of his literary heroes, including Samuel Taylor Coleridge, William Wordsworth, and Thomas Carlyle. He was less impressed with these men (Carlyle excepted) than he was with the Jardin des Plantes in Paris. At the French botanical garden, he felt "moved by strange sympathies. I say I will listen to this invitation. I will be a naturalist."
Returning to Boston in 1833, Emerson soon began the first of numerous lecture series that would take him across the country many times during his life. From the lectern, he would peer at his audience with his intense blue eyes. Tall and thin, habitually wearing an enigmatic smile, he possessed an angelic quality that...
(The entire page is 2,945 words.)
Owl Eyes subscribers get unlimited access to our expert annotations, analyses, and study guides on your favorite texts. Master the classics for less than $5/month!