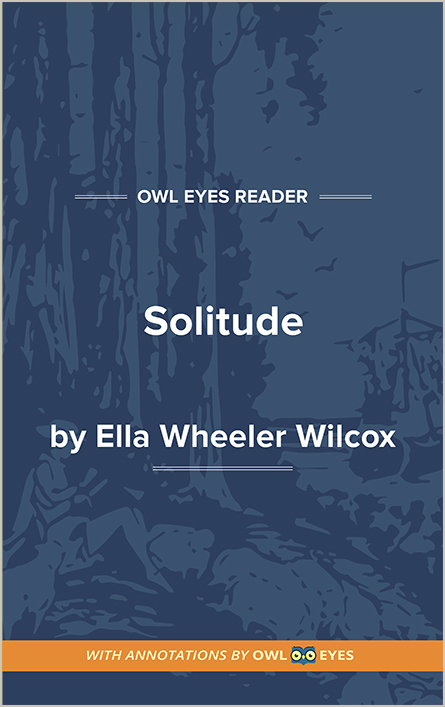 Annotated Full Text

Literary Period:

Realism

Publication Date:

1883

Flesch-Kincaid Level:

7

Approx. Reading Time:

0 minutes
Her most popular poem, Ella Wheeler Wilcox's "Solitude" is about the relationship between the individual and the outside world. The poem is built on a series of contrasting conditions: "Laugh, and the world laughs with you;/Weep and you weep alone." At first, the words may seem like a guide advising the reader to maintain a positive attitude. It becomes clear, however, that the poem is more complex than that, operating as a road map for the difficult realities of life. At the core of Wilcox's philosophy is a belief that we all exist in a state of solitude. Wilcox wrote this poem after encountering a grieving woman on her way to Madison, Wisconsin. Despite her efforts, Wilcox was not able to comfort the woman over her loss. Distraught, Wilcox returned to her hotel and after looking at her own lonely face in the mirror, began to write this poem. The context of the poem suggests that what follows is not a parade of moral platitudes but a series of choices. If you laugh, sing, rejoice, or feast, the world will be drawn to you. If you weep, sigh, fast, or grieve, the world will abandon you. After all, in the end, "one by one we must all file on." The poem is neither an anthem of positive thinking nor a dour account of existential loneliness. It is an invitation to move through the world with practicality and self-reliance.
Annotated Full Text

Literary Period:

Realism

Publication Date:

1883

Flesch-Kincaid Level:

7

Approx. Reading Time:

0 minutes