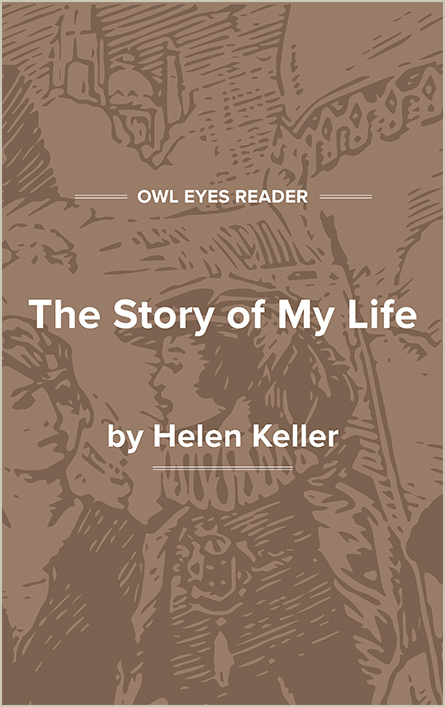 Mark Twain characterized Helen Adams Keller as "the greatest woman since Joan of Arc," a description still fitting more than a hundred years after her remarkable accomplishments began to be publicized throughout the world. She became one of the best-known humanitarians of the twentieth century. The daughter of newspaper editor Arthur H. and Kate (Adams) Keller, Helen developed a fever that left her deaf and blind at nineteen months of age. She lived in a frustrating world of dark silence until 1887, when twenty-year-old Anne Mansfield Sullivan came from the Perkins Institution for the Blind in Boston to be her teacher. Sullivan had been taught by her blind-deaf roommate, Laura Bridgman, to communicate using the manual alphabet, and she was determined to teach language to Keller by finger-spelling into her hands. Keller recounts her breakthrough in connecting words with objects in her autobiography The Story of My Life, which became an instant classic. This story has since been retold in scores of biographies, as well as in television, stage, and film versions of William Gibson's perennially popular drama The Miracle Worker.
Keller had a gift for language that would have been remarkable even for a child with perfect vision and hearing, and she was tireless in her efforts to learn language. Shortly after mastering manual communication, she learned Braille and became an avid reader. In 1888, Sullivan accompanied Keller to the Perkins Institution for more formal education. In 1891, the eleven-year-old Keller presented the institution's director, Michael Anagnos, with an original short story, "The Frost King." Keller's language and imagery were so striking that Anagnos had the story published, only to find Keller accused of plagiarizing Margaret Canby's 1873 story "The Frost Fairies." Keller was already becoming a public figure, so the "inquisition" into the matter attracted widespread attention. Keller had no recollection of the Canby story, but investigation revealed that a family friend apparently had read it to her three years earlier. Canby and Mark Twain wrote statements exonerating Keller of plagiarism. This incident was indicative of how Keller absorbed language and made it a part of her own thinking.
Keller continued to develop as a student and decided to attend college, passing the Harvard College English and German entrance examinations with honors. She began writing magazine articles and in 1903, the year before she graduated cum laude from Radcliffe College, wrote The Story of My Life. Keller was fiercely independent and determined to earn her own living as a writer. Although her unique life brought her to the public's attention, it was the remarkable quality of her writing that established her as an international celebrity. Sullivan is credited with much of her education, steering Keller toward the classics and away from banal expression. That background, together with Keller's own genius with language, resulted in a flowing, literate style. Keller lived a truly optimistic and altruistic life, believing that the only life worth living was one in service to others. This philosophy was reflected in her many articles, essays, and poems.
To augment her writing income, Keller began lecturing in 1913 and quickly became a popular speaker, even appearing on the vaudeville circuit from 1922 through 1924. Sullivan (who married writer and literary critic John Macy in 1905) continued serving as Keller's teacher, secretary, and friend until Sullivan's death in 1936. Keller added installments to her autobiography, Midstream: My Later Life, Helen Keller in Scotland, and Helen Keller's Journal, 1936-1937, during the 1920's and 1930's.
As she became financially independent, Keller began writing and speaking on behalf of the blind, establishing an endowment fund for the American Foundation for the Blind in 1930. Her inspirational book Let Us Have Faith was published in 1940. She spent the rest of her life...
(The entire page is 950 words.)
Owl Eyes subscribers get unlimited access to our expert annotations, analyses, and study guides on your favorite texts. Master the classics for less than $5/month!