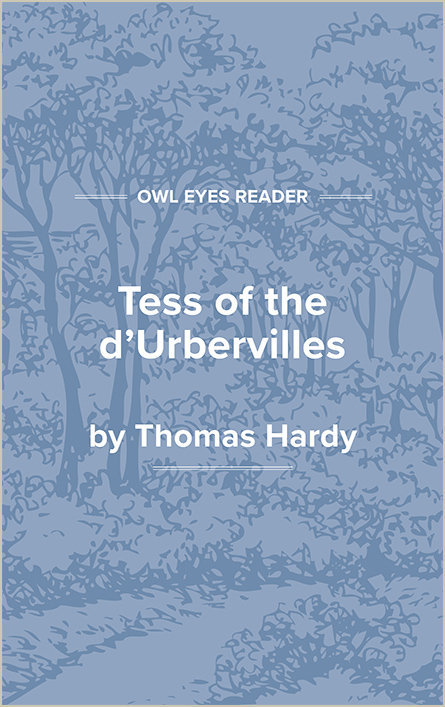 Tess Durbeyfield
Tess Durbeyfield, a naïve country girl. When her father learns that his family is descended from an ancient landed house, the mother, hoping to better her struggling family financially, sends Tess to work for the Stoke-d'Urbervilles, who have recently moved to the locality. In this household, the innocent girl, attractive and mature beyond her years, meets Alec d'Urberville, a dissolute young man. From this time on, she is the rather stoical victim of personal disasters. Seduced by Alec, she gives birth to his child. Later, she works on a dairy farm, where she meets Angel Clare and reluctantly agrees to marry him, even though she is afraid of his reaction if he learns about her past. As she fears, he is disillusioned by her loss of innocence and virtue. Although she is deserted by her husband, she never loses her unselfish love for him. Eventually, pursued by the relentless Alec, she capitulates to his blandishments and goes to live with him at a prosperous resort. When Angel Clare returns to her, she stabs Alec. She spends a few happy days with Clare before she is captured and hanged for her crime.
Angel Clare
Angel Clare, Tess's husband. Professing a dislike for effete, worn-out families and outdated traditions, he is determined not to follow family tradition and become a clergyman or a scholar. Instead, he wishes to learn what he can about farming, in the hope of having a farm of his own. When he meets Tess at a dairy farm, he teaches her various philosophical theories that he has gleaned from his reading. He learns that she is descended from the d'Urbervilles and is pleased by the information. After urging reluctant Tess to marry him, at the same time refusing to let her tell him about her past life, he persuades her to accept him; later, he learns to his great mortification about her relations with Alec. Although he himself has confessed to an episode with a woman in London, he is not as forgiving as Tess. After several days, he deserts her and goes to Brazil. Finally, no longer so provincial in his moral views, he remorsefully comes back to Tess, but he returns too late to make amends for his selfish actions toward her.
Alec d'Urberville
Alec d'Urberville, Tess's seducer. Lusting after the beautiful girl and making brazen propositions, he boldly pursues her. At first, she resists his advances, but she is unable to stop him from having his way in a lonely wood. For a time, he reforms and assumes the unlikely role of an evangelist. Meeting Tess again, he lusts after her more than ever and hounds her at every turn until she accepts him as her protector. Desperate when Angel Clare returns, she kills her hated lover.
Jack Durbeyfield
Jack Durbeyfield, a carter of Marlott, Tess's indolent father. After learning of his distinguished forebears, he gives up work almost entirely and spends much of his time drinking beer in the Rolliver Tavern. He thinks that a man who has grand and noble "skillentons" in a family vault at Kingsbere-sub-Greenhill should not have to work.
Joan Durbeyfield
Joan Durbeyfield, Tess's mother. After her hard labor at her modest home, she likes to sit at Rolliver's Tavern while her husband drinks a few pints and brags about his ancestors. A practical woman in a harsh world, she is probably right when she tells Tess not to reveal her past to Angel Clare.
Sorrow
Sorrow, Tess's child by Alec d'Urberville. The infant lives only a few days. Tess herself performs the rite of baptism before the baby dies.
Eliza-Louisa
Eliza-Louisa, called Liza-Lu, Tess's younger sister. It is Tess's hope, before her death, that Angel Clare will marry her sister. Liza-Lu waits with Angel during the hour of Tess's execution for the murder of Alec d'Urberville.
Abraham
Abraham,
Hope
Hope, and
Modesty
Modesty, the son and young daughters of the Durbeyfields.
The Reverend James Clare
The Reverend James Clare, Angel Clare's father, a devout man of simple faith but limited vision.
Mrs. Clare
Mrs. Clare,...
(The entire page is 1,080 words.)
Owl Eyes subscribers get unlimited access to our expert annotations, analyses, and study guides on your favorite texts. Master the classics for less than $5/month!