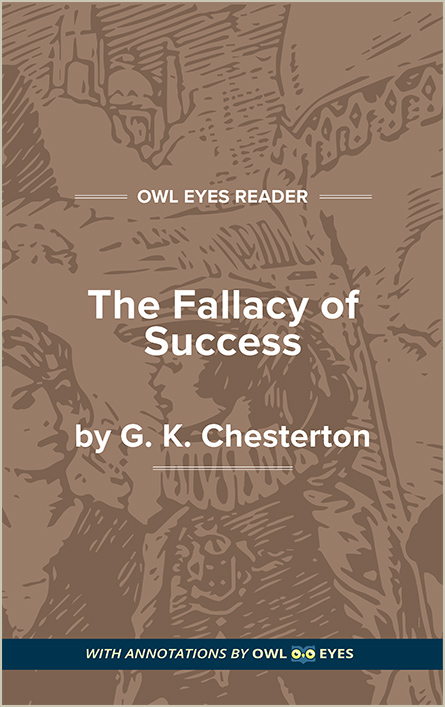 Rhetorical Devices

in

The Fallacy of Success
Appeals to Ethos, Pathos, and Logos: Chesterton makes ample use of Aristotle's three rhetorical appeals to ethos, pathos, and logos. Appealing to ethos to bolster his own credibility, Chesterton displays his familiarity with the literature of "Success" as well as the broader historical and intellectual context in which it exists. Appealing to pathos to reach his audience's emotions, Chesterton uses sardonic humor as well as rhythmic, musical phrasing. Appealing to logos to invalidate popular claims about "Success," Chesterton asserts the inherent vagueness and misguidedness of success as such.
Paradox, Parallelism, and Alliteration: Chesterton employs a variety of devices to add weight and zest to his arguments. He often uses paradox, crafting sentences that appear contradictory on the surface but which reveal subtle, counterintuitive truths. He also uses parallelism, layering phrases and sentences with similar structures so as to produce waves of rhythmic momentum. Another technique he often uses is alliteration, combining words with identical opening consonants; alliterative phrases are pleasing to the ear and memorable to the mind, thereby contributing to the effectiveness of the larger argument.
Rhetorical Devices Examples in The Fallacy of Success: