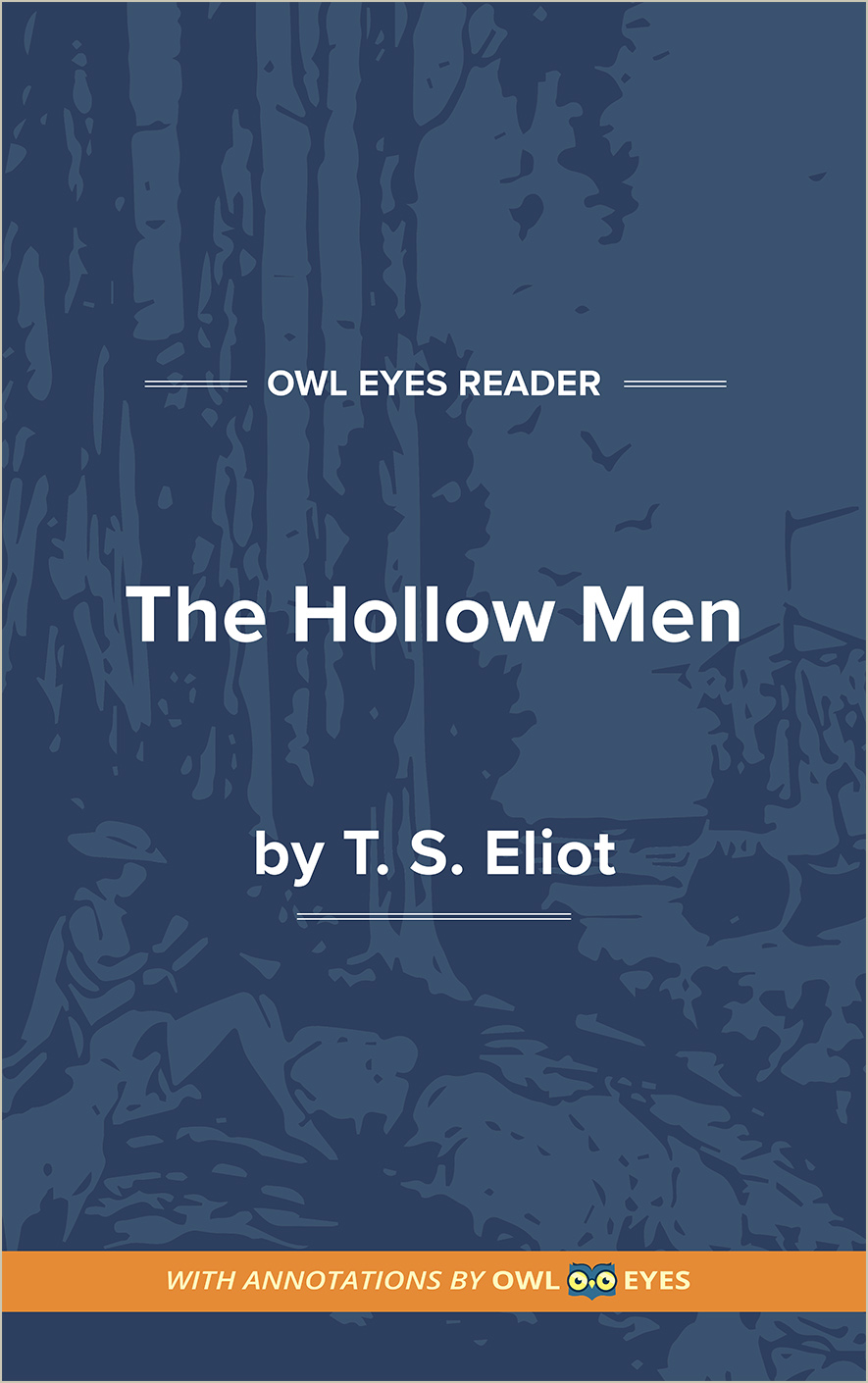 This poem of emptiness, "The Hollow Men," opens with a double epigraph, one from the novelist Joseph Conrad's Heart of Darkness (1902) and one from the traditional children's request for a penny on Guy Fawkes Day, November 5. The former seems intended to draw the reader to Conrad's short masterpiece and to the announcement of the death of Mr. Kurtz—perhaps the ultimate hollow man—to Charlie Marlow, the first narrator of that work. (Marlow had observed of London that it, too, was once one of the dark places of the world.) The latter epigraph also involves light and darkness, as it recalls the 1605 Gunpowder Plot, an alleged Roman Catholic attempt to blow up the English monarch and the houses of Parliament. The "guy" is a stuffed effigy of Guy Fawkes; the pennies collected by children are to purchase materials and fireworks to celebrate the ritual evening burning of the effigy. Both epigraphs allude to an emptiness, one spiritual and one physical.
Divided into five parts, the poem begins in a choric proclamation of emptiness, as if a chorus of stuffed men were appearing before the reader in a frozen tableau vivant that will quicken to a dance round in part 5, followed by an antiphonal and concluding with another dance round.
The playfulness of some of the motion implied in the poem is in sharp contrast to the words of the hollow men. The poem's first part also introduces the notion of a double kingdom of death, one in this world and one in the next.
The second part explores death's dream kingdom, sleep, and the hope that the speaker, one of the hollow men in soliloquy, would not meet eyes he would wish to avoid, eyes that he would prefer remain distant. Part 3 sets the reader in a dead land, a desert place of isolation that thwarts, like death's other kingdom, the ability to kiss, to express emotion. Part 4, filled with negation, describes a...
(The entire page is 490 words.)
Owl Eyes subscribers get unlimited access to our expert annotations, analyses, and study guides on your favorite texts. Master the classics for less than $5/month!