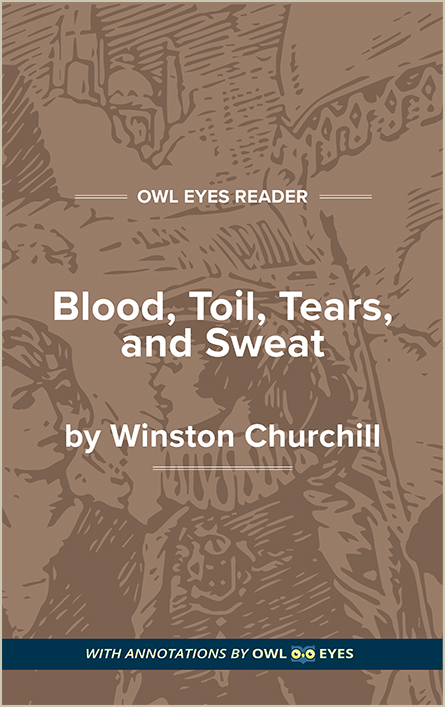 Historical Context

in

Blood, Toil, Tears, and Sweat
Churchill's Return from the Wilderness: In 1929, after nearly three decades as a member of Parliament, Winston Churchill was voted out of office along with many of his fellow Conservatives. Thus began his period of political estrangement, which lasted for most of the 1930s and has been labeled his "wilderness years." During the 1930s, Churchill retreated to his country home to write a history of World War I and publish his political opinions in newspapers and magazines. Of particular interest to Churchill was the rise of the Third Reich and Germany's aggressive rearmament. Churchill devoted much of his energy to sounding the alarm, calling for Britain to rearm itself in preparation for another war. In the aftermath of the failure of Neville Chamberlain's 1938 Munich agreement, Churchill's concerns became mainstream. By 1939, he had returned to office as a member of Chamberlain's cabinet. By 1940, he was appointed Prime Minister.
The Dawn of World War II: World War I left Germany politically and economically devastated. In the interwar years, Great Britain made great efforts to heal the tensions between Germany and its neighbors, particularly France. In the late 1920s and early 30s, a new right-wing political party emerged and began to accumulate power. The Nazi party, led by Adolf Hitler, eventually took the helm of the German government in 1933 and launched a regime based on ideals of nationalism and racial purity, which were spread through a folksy, yet powerful, program of propaganda. The Nazis began to enact a series of strong-handed moves, arresting and confining German Jews, scaling up their economic and military institutions, and asserting pressure on neighboring countries. Germany provoked a diplomatic crisis when they seized the Sudetenland in 1938, citing the prevalence of German-descended people in that region of Czechoslovakia. The major European powers—France, Britain, Italy—convened to appease Germany with the Munich Agreement of September of 1938, securing peace by relinquishing miles and miles of Czech lands. The appeasement failed. A year later, Germany had begun to invade Poland, and the rest of Europe increasingly braced for war.
Historical Context Examples in Blood, Toil, Tears, and Sweat: