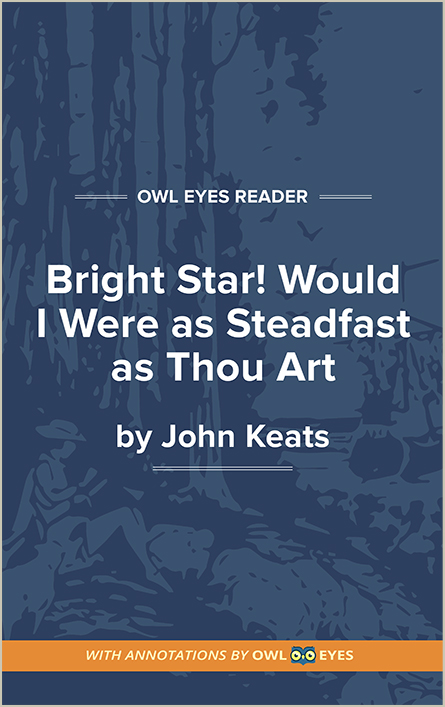 Historical Context

in

Bright Star! Would I Were Steadfast as Thou Art
British Romanticism: John Keats was one of the central English figures in the literary and artistic movement known as romanticism. Romanticism arose in England at the turn of the 19th century with the emergence of William Wordsworth and Samuel Taylor Coleridge in 1798, just a few years after Keats's birth. While Keats was acquainted with romantic poets Percy Shelley and Lord Byron, he was not recognized as a major poet until decades after his death. Along with his fellow romantic poets, Keats explored the relationships between humankind and nature, idealized beauty and sublimity, and looked to the classical past for wisdom.
John Keats's Tuberculosis and Trip to Rome: In the autumn of 1820, John Keats set out for Rome at the advice of his doctors and friends. His tuberculosis had progressed to a dangerous state, and the hope was that Italy's warm climate might ease his symptoms. One consequence of his voyage to Rome was that he had to leave behind his beloved Fanny Brawne. During the voyage, Keats was reading a volume of Shakespeare's poetry when the idea for "Bright Star!" struck him. Inspired by his voyage, his love for Fanny, and his vulnerable state, he scrawled the poem in the margins next to Shakespeare's verses.
Historical Context Examples in Bright Star! Would I Were Steadfast as Thou Art: