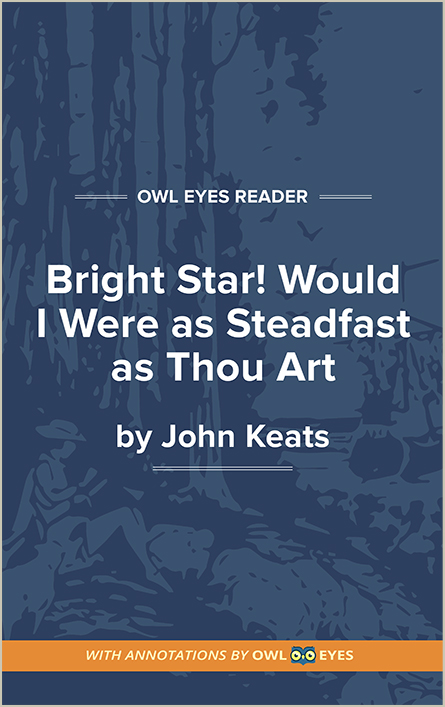 Literary Devices

in

Bright Star! Would I Were Steadfast as Thou Art
The Sonnet Form: "Bright Star!" is an example of the Elizabethan sonnet, also known as the Shakespearean or English sonnet. The Elizabethan sonnet has fourteen lines which consist of three stanzas with an ABAB rhyme scheme followed by a rhymed couplet. The meter is the standard iambic pentameter.
Personification: One of the main literary devices Keats uses in "Bright Star!" is personification, a device he uses in many of his poems. The speaker, gazing upon the natural world, sees human qualities in the both the North Star above and the water below. The star watches the world from a distance; the water cleanses the shore. Such personification illuminates the speaker's inner imagined world.
Tension and Contrast: As the poem progresses into the second half, Keats makes increasing use of formal contrasts to illustrate the speaker's inner tensions. The volta, the thematic turn at the sonnet's ninth line, foregrounds the poem's central tension: "No—yet still steadfast, still unchangeable." The speaker acknowledges the great gulf—both in distance and character—between himself and the admired North Star. The final line carries tremendous tension as well, for the speaker expresses his desire to "live ever—or else swoon to death." The speaker wishes to remain in a moment of rapture with his lover but knows he cannot.
Literary Devices Examples in Bright Star! Would I Were Steadfast as Thou Art: